Want to generate a 37% return on investment, risk-free?  Replace your old HID billboard lights with high efficiency LED lights.  Insider achieved a 37% return on investment by replacing 6 old HID lights on this Clear Lake, Iowa billboard with new high efficiency Holophane LED lights from Reliable Electric.  Look at the numbers.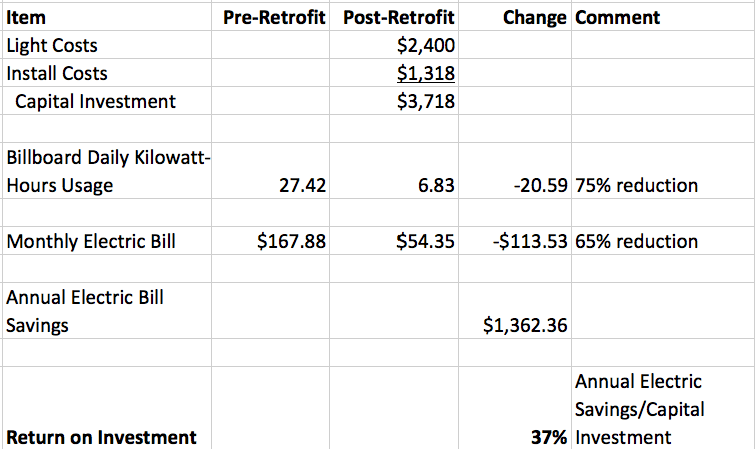 The two-sided 12 by 40 billboard was built in 2007 and had 6 old HID lights.  Daily kilowatt hour usage was 27.42.

Insider ordered 6 high efficiency Holophane Sign Vue 2 LED lights from Brian Kline at Reliable Electric at $400/each for a total cost of $2,400.  You can find info on the lights at this link.  The lights reduced the load from 458 watts per fixture to 108 watts while achieving beetter uniformity.  The Sign Vue 2 LED lights produce an industry leading 120 lumens per watt.

Kline shipped the lights to Insider's electrician in Clear Lake, Iowa.  The electrician's installation bill was $1,071, including labor and rental of a lift truck.
The new lights cut the billboard's power consumption by 75% from 27.42 kilowatt hours per day to 6.83 kilowatt hours per day.
Insider's monthly electric bill dropped by 65% for a savings of $114/month.
This return is risk-free.  It's a permanent cost reduction regardless of what the economy does.  How many investments can you make which generate a 37% risk free return?  Insider might have gotten an even higher return had he chosen to reduce the lights form 6 to 4.  Holophane offers not just an easy fixture replacement but the option to reduce the number of lights per face.
Insider computed the return before energy rebates because rebates vary greatly depending on the local power company.  Brian Kline helped Insider identify an Iowa/Alliant Energy rebate program of $175 per fixture or $1,050 which increases the project's return on investment to 51%.
Insider based returns on hard costs.  There are additional benefits from lower lifetime maintenance costs and better illumination.
Contact Brian Kline of Reliable Electric (bkline@reliable-electric.com, 866-250-6445) to learn how you can save money by retrofitting your old billboard lights with high efficiency LED's.
---
Paid Advertisement