Landmark Infrastructure Partners LP reported financial results for the second quarter of 2019.  Here's an update on Landmark's out of home portfolio.
Revenues and Net income from Outdoor Advertising totaled $5.2 million and $4.0 million respectively for the three months ended June 30, 2019.  Out of home revenues accounted for one third of Landmark's total revenues.
Out of home assets increased from $216 million at December 31, 2019 to $266 million at June 30, 2019 although Insider notes that most of the growth has come from the international portfolio outside the US.  There has been only 1 domestic US acquisition in the past 9 months.  Look at this summary of Landmark's recent third party acquisition activity.

Landmark has two lease terminations in the out of home portfolio for the six months ended June 30, 2019 compared to one lease termination during six months ended June 30, 2018.
The company is aggressively seeking growth.  You should assume that Landmark is aggressively soliciting your landlords to sell their billboard leases.  Insider gets a couple letters a month from Landmark asking if he wants to sell any out of home leases.  Landmark is primarily interested in out of home leases which are generating in excess of $300/month in rents.  Here's a map of Landmark's US offices and origination team members.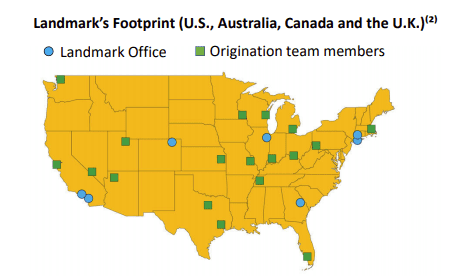 ---
Paid Advertisement