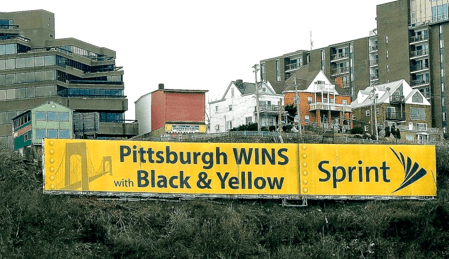 In Pittsburgh, Lamar Advertising Company has faced a long-running battle with the city over Lamar's large billboard that faces downtown from Mount Washington.
On January 24, the Court of Common Pleas of Allegheny County reversed the city's Zoning Board of Adjustment decision to order Lamar to remove the sign.
Lamar's attorney, Jonathan M. Kamin, applauded the decision for upholding property rights and recognizing the sign's long legal use (Lamar v. The City of Pittsburgh Zoning Board of Adjustment).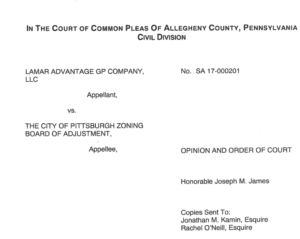 Insider reads plenty of legal documents, which are dry, verbose and confusing.  The seven-page opinion from Court of Common Pleas Judge Joseph M. James is a model of clarity.  Here are examples:
The city said Lamar changed the type of advertising, to vinyl, without permit or approval.
Judge James: "Lamar did not need a permit to change the advertising . . ."
Did Lamar's use of the billboard constitute abandonment?
Judge James:  "The record supports that the billboard sign has been continuously used for commercial advertising for almost 90 years."
The mayor was outspoken about Lamar's application to modernize the sign.
Judge James: "City officials including Mayor Peduto have stated that they would not approve Lamar's application unless the City approved of the content of the message to be placed on the billboard sign.
Mayor Peduto is quoted as saying, 'What they are trying to do was to go to Giant Eagle and tell them they could advertise for chipped ham and the board would say what the specials are with Klondikes and milk and that was never going to happing in this city. '"
Insider likes Klondikes, and also appreciates the checks and balances built into our three-prong system of government.  You can read Judge James ruling here.  You can read a TribLive article on the ruling here.
---
Paid Advertisement