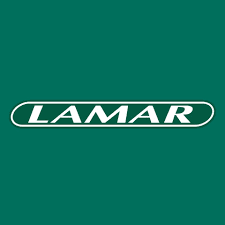 Lamar had a nice quarter although revenue growth lagged Outfront and Clear Channel.  Here are the results of the second quarter 2019 earnings release and conference call.
Net revenue increased 6.9% to $449 million during the second quarter of 2019.  Acquisition adjusted net revenue increased 2.4%.  Local revenue was up 4.3%.  Revenues are 76% local.  National revenues were flat.
Adjusted cashflow (EBIDTA) increased 6.2% to $208 million.
The company ended the quarter with 3,337 digital billboards.  The company is on pace to add 200 digital billboards for the full year 2019.  Same board digital revenues were up 4.3%.
Lamar's programmatic out of home revenues were at a run rate of $800,000/month during the second quarter 2019.  Programmatic buys are $900,000-$1 million/month so far in the third quarter 2019.  Reilly expects programmatic buys of $1 million/month during the fourth quarter.  "It's an exciting time for us.  We're tapping into dollars that we otherwise wouldn't have gotten…"  Reilly also hinted that automated buying may come to static billboards: "If you talk to our partners, they are working on…automated platforms that would allow customers to go direct and purchase through an algorithm…I would say that's a couple years off."
Debt/Cashflow at June 30, 2019 was a moderate 3.6:1.0
CEO Sean Reilly on acquisitions:
It's been an active year so far on the acquisitions front including new offices in St Louis, Springfield, Ft Smith and Witchita, with over $200 million in acquired outdoor assets year to date.
There was one transaction that was over half of that and brought us some new markets.  I mentioned Ft Smith Arkansas and Witchita Kansas. [Insider note: Ashby Street Outdoor]  That was a little bit of an anomaly….On the tuck-in front there's just a lot of activity.  And pricing has been virtually the same as we talk about year in and year out.
CEO Sean Reilly on why Lamar's organic revenue growth is below Outfront and Clear Channel Americas:
We're at a moment in time where top 20 DMA's are outperforming the DMA's that are below below the top 20 and…we are predominately below the top 20.  About 80% of our book is below the top 20 DMA's.  That's a little bit of the divergence between what's going on in their national book and out national book.
CEO Sean Reilly on economic conditions:
We're not flashing read around here.  Things still look pretty good.
Insider's take:  It's a tale of two markets in out of home.  The top 20 DMA's are growing faster than the other DMA's.  This means slower revenue growth for Lamar and probably also Link Media, which are active in smaller markets.  Lamar stock finished the day down 2.9% to $77.93.  The S&P 500 was up 0.08%%.  Outfront was up 0.33%.
The real story is Clear Channel Outdoor which declined another 8.9% to $2.27 yesterday.  Clear Channel Outdoor stock has dropped almost in half over the last month.
---
Paid Advertisement