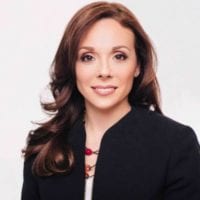 Geopath President Kym Frank talked about the bullish outlook for out of home on Borrell's Local Marketing Trends Podcast this week.
Outdoor is the only traditional medium which hasn't declined.  Why?
I think it's a lot of factors.  Certainly there have been more installs…We just really aren't subjected to a lot of problems that other channels have had with fragmentation and bots and fraud.
On the use of digital billboards to provide public service messaging
It's a great opportunity to communicate to the public about emergencies.  I'm sure there were hurricane messages that went up showing people evacuation routes, we'll work with the FBI to help identify people who are wanted, to find missing people, it's a really great channel that does pay back to the community…
Are out of home sales reps marketing digital products like SEM, SEO, audience extension that the broadcast and print reps are using to keep advertisers?
The bigger players are heading down that road.  The primary focus has been on mobile extensions because out of home is such a great complement to mobile…So in a lot of cases our members are starting to sell geofencing solutions, mobile ad layers and other online solutions…
On the future
The influx of programmatic buying is going to grow the channel significantly making it easier to buy not just for big agencies for for small businesses…I think we're going to shave off a lot of dollars from television and online as we get easier to buy…We have an awesome opportunity with data and targeting that we've really never had before…I think we're also going to see new innovations in format.  Out of home inventory talking directly to the dashboard of connected cars, more experiential campaigns…
Gordon Borrell was a speaker at the OAAA show a few years ago.  His local marketing trends podcast is a great way to stay up to date with what media buyers are thinking about out of home as well as other forms of advertising.
---
Paid Advertisement