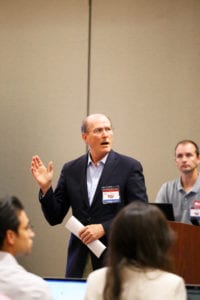 OAAA SVP Ken Klein summarized the issues surrounding Bill Thomas' challenge to Tennessee's state billboard rules at last week's IBOUSA convention in Memphis. Here's a summary of the discussion.
Why did the plaintiff (billboard builder Bill Thomas of Tennessee) succeed in court?
A federal judge in Memphis and recently a three-judge federal appeals court ruled in Thomas' favor.  These judges said the distinction between on-premise and off-premise regulation of signs is based on content and that violates the First Amendment. A unanimous US Supreme Court decision in 2015 (Reed v. Town of Gilbert) said signs should not be regulated based on content.
In the Thomas case, the State of Tennessee and the federal government argued that Tennessee's billboard controls are not content-based and do not violate free speech protections.
What has the State of Tennessee done in response?
After the federal appeals court ruled in September, Tennessee's DOT paused regulatory activities (not approving or denying permits).
The State of Tennessee has asked the full US Sixth Circuit Court of Appeals — 16 judges — to review the Thomas case. For the State to prevail, the full appeals court would have to override the recent decision by three of its colleagues. The Sixth Circuit is comprised of Tennessee, Kentucky, Ohio, and Michigan.
Could the Thomas case go to the Supreme Court?
It could, but Supreme Court review is quite limited. Typically, the Supreme Court gets 7,000 to 8,000 petitions a year, and hears arguments on perhaps 80 cases. Predicting Supreme Court outcomes is tricky at best. The current Supreme Court is different than the Court that ruled on the Reed v. Town of Gilbert case in 2015.
Why should out of home companies be concerned?
The absence of regulation is not in anybody's interest. Further, the existing regulatory scheme spells out — in federal law and most states — the important protection of just compensation if billboards are removed by government.
How did Oregon and Texas handle this issue?
This on/off premise challenge occurred in Oregon in 2006 and Texas in 2015.  Both states amended their billboard regulations to clarify what type of signs are regulated/permitted. Neither of these legislative remedies has been challenged. The State of Tennessee has asked for and received detailed information about how Oregon and Texas fixed their regulations in order to satisfy court challenges.
Insider's take:  Regulatory support and analysis is a huge benefit which OAAA provides to  the industry.  You need to become a member if you aren't already.
---
Paid Advertisement