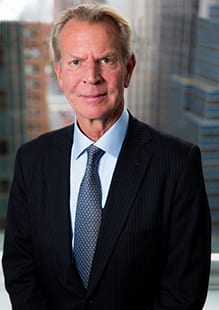 Outfront Media CEO Jeremy Male talked about the resurgence of national advertising at the Credit Suisse 21st Annual Communication Conference this week.   Here are the highlights.
On the increase in national advertising
The big switch for the industry in the last 6-9 months is national…national is coming back.  Over the last few years if you were an ad agency or a client, whatever the question was the answer was Facebook or Google…We're starting to see some change… top of the funnel is starting to become important again.  Those big bold branding statements.  Let's dominate locations, let's dominate audiences…
I don't know how many people here have been spending time on the subway but if you look at the digital screens we're putting in now they are fabulous ads…We were going through Grand Central yesterday and on the digital ads there we had Godzilla, Google.
On converting static boards to digital
We've been at 100 the last few years…We want to see if we can get that more towards 150… We've also got significant digital conversions in our transit systems…
On automated selling of digital billboards
We're all making investments in terms of automation.  A very small portion of our inventory is traded in an automated way.  We have a beta version of our front end digital product called Smart Scout.  Where you can interrogate all of our boards by audience across the country…At the moment I can't click to purchase, but soon we're going to have automation there.
On how selling has changed
5 years ago we were sign sellers.  We'd sell that sign there to Joe's Mufflers because Joe's Mufflers was right over here.  Now we're having conversations where we ask "what's your media strategy.  How can Out of Home be part of your media strategy.  How can we put a mobile overlay onto your Out of Home strategy.  Shall we geofence?  How can we merchandise this campaign with social…The Kylie Jenner board she spent $3,000 on had 50 million hits online…It's a sign that Out of Home has gone from becoming a real estate business to becoming a medium.
M&A
We are continuously looking for tuck-in M&A that makes sense for us.  We're very focused on the top 25 DMA's.  In the last few months we've closed on a small deal principally in the Bay area, we closed a small deal in Atlanta and we continue to look at opportunities…
What's doing well and what isn't
The categories that have been strong…have been the tech categories – Apple, Google, Facebook, Netflix, Spotify – so that's been great.  Professional services has been a big growth area.  And healthcare is massive for us.  One category which has gone consistently backward…has been auto…When you think about the out of home audience which is male-skewed and vehicular I can't believe that we aren't carrying more car ads.
---
Paid Advertisement