Here are the highlights from Outfront CEO Jeremy Male's talk at the JP Morgan Global Technology, Media and Communications Conference Tuesday.
On Outfront's stellar performance
Actually the out of home industry is doing really nicely.  Out of Home was up in the U.S. 7% in Q4 which was the fastest growth since 2007-2008…For the last 3 years our local business has been doing particularly well…national business was a drag on our business for around 18 months.  What's changed with regard to national business?  …There's a reappraisal of what's top of funnel rather than what's bottom of funnel…At the margin some of the negativity we've seen in the online world in terms of product placement and fraud at the margin has had a positive impact.  What's changed our trajectory is national is going from flat to up 8%/year…What else is going on?  We're benefiting from the digital investments we're making…that's digital billboards…and our transit business…we are executing well…our message is resonating with local advertisers, we're taking a consultative sales approach…
On competitors
In local markets…we're pitching against the googles and facebooks.  It's less about TV…
On Digital Billboard Conversions
Digital has been a big driver for us in both billboards and transit.  In the billboard business we're trying to ramp up the rate of growth.  We've been at 100 a year.  We're trying to get to 150 a year…
On headwinds experienced after the 2014 spinoff from CBS.
We got out of the gates slowly because under the previous owner the investments weren't made in the Out of Home business.
On transit
80% of our top 100 customers buy both transit from us and billboard…If you want to reach the commuter audience in New York it's only us.
The only transit contract of any substance that we have interest in is Chicago.  That would be nice to have.  That would be a good addition.  It's expected to be out in RFP later this year…It's served by Intersection.
On lengthening term for transit contracts
Very few things in life are forever and 15 years is a pretty good runway…for the most part the capital in the contracts is paid for by the municipality…it's a great business compared to billboards because there's very little capital which we have to deploy…San Francisco was 10 plus 2…Boston was a potential 15 year term.
On M&A
There's about 30% of the market that's still unconsolidated…There's a good piece of that that's not relevant to us…While multiples can seem quite high – double digital – when you can layer efficiencies…they can be attractive…We're closing something in the next few days mainly in the Bay area.
Will the big Out of Home companies consolidate?
JCDecaux have many times in the past shown interest in making investments in the US.  Maybe they will.  From Clear Channel's point of view I suspect they'd like to find some other way of getting their balance sheet on track than selling out of home assets.  Who wants to sell Out of Home assets right now?
Insider's take
Next time you hear someone say what a great idea it would be for a company outside the Out of Home business to buy an Out of Home company remember Jeremy Male's words about the days when Outfront was owned by Viacom and CBS:
We got out of the gates slowly because under the previous owner the investments weren't made in the out of home business.
Clear Channel Outdoor Chairman William Eccleshare said the same thing in an April 2019 conference call:
I think as a fully-focused, pure-play outdoor business, it's going to enable us to perhaps concentrate a little more than we have been able to in the past on some areas of investment.
---
Paid Advertisement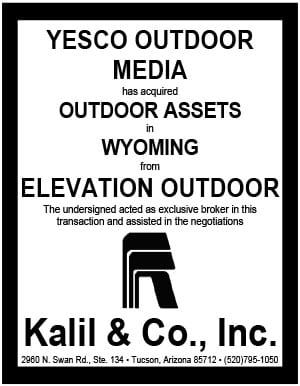 Hits: 16