JCDecaux delivered record 2019 results but said it expects first quarter 2020 revenues to decline 10% due to the conoravirus.  Here are the results from the 2019 earnings release.
Adjusted revenue increased by 7.5% to 3,890 euros in 2019 due to strong growth in digital advertising.  CEO Jean-Francois Decaux said most advertising categories are up.
Adjusted free cashflow was 170 million euros in 2019 up from 142 million euros in 2018.
Jean-Francoise Decaux expects performance to decline in 1Q 2020:"Looking at Q1 2020, we expect our adjusted organic revenue to be down around -10%, despite a positive current trading in Street Furniture, reflecting the very material impact from the Covid 19 outbreak and taking into account the Q1 2019 high comparable in Transport. In Asia-Pacific, our business has been significantly affected since the beginning of February, with a very important decline in China in passengers and commuters in the airports and metros where we operate. All our landlords in China fully recognise the significant setback for the advertising business and have all already expressed their intention to grant us rent reductions."
This slide in the earnings deck caught Insider's eye.  It shows that JCDecaux shows that billboards account for only 15% of JCDecaux's business and that North America accounts for only 9% of JCDecaux's business.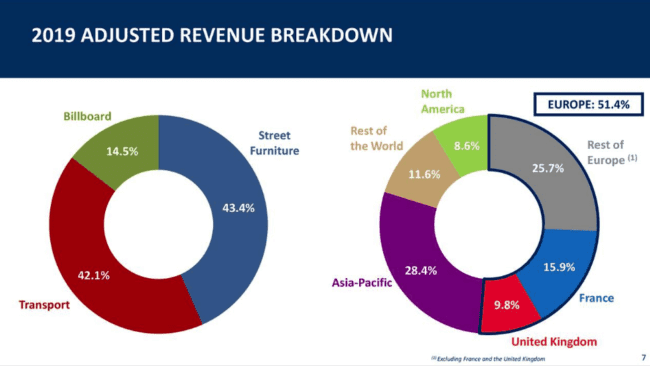 Insider's take:  What's happened in China will happen in the US.  Expect your US transit and airport revenues to decline in the next quarter if US airplane and transit ridership goes down due when company's curtail their non-essential travel and ask employees to work from home.
---
Paid Advertisement