Clear Channel Outdoor Holdings, Inc. announced this week plans for underwriting a public offering of 100 million shares of their common stock.  After reviewing the prospectus, Insider thought it would be worthwhile to pass along some thoughts.
Use of Proceeds
Insider has written about CCO's high leverage.  The good news is that the proceeds from the stock sale will be used to reduce the company's expensive 9.25% Senior Subordinated Notes.  Their prospectus provides the following table for a look at their total debt pre- and post funding.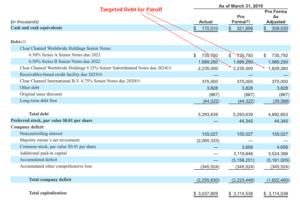 You can see that the table shows a reduction of the Senior Subordinated Notes in the $400 million range per the prospectus.  But keep in mind that their total debt, as shown here, before payoff is $5.3 billion and is reduced after a successful offering sale to $4.9 billion or a 7.5% reduction in total debt.
Impact of Leverage
The following table shows the potential for reduction of Total Debt/ Cash Flow

So the potential impact on reducing leverage takes their total from the high eights to the low eights. This compares to Lamar (Low 4 times) and Outfront (High 4 times).  And again, the reduction in leverage, while encouraging, does not have a material impact on their Balance Sheet.
So Why Do The Offering?
First, Insider will state that we have had no conversations with anyone at CCO, so the following thoughts are our own.
CCO's efforts to reduce leverage is the right thing to do. The Company's leverage is too high, based on industry standards, and if they hope to grow through targeted acquisitions, they will need to be able to show lower leverage to attract additional debt or equity for acquisitions.
It is important CCO show the market they can raise equity successfully.  It will not surprise us if there are future equity offerings and showing the market they can complete this offering is a good sign.   Keep in mind that as of yesterday's close, the stock price had dropped to $3.54 per share, almost 13% below their stated target of $4.06.  Insider will be keeping any eye on that stock price in the near term, as the market will express their interest through the market value of traded shares.
Visibility and Teamwork between the Board, Investors and Management. Scott Wells, in his recent podcast on Billboard Insider, stated the the new Board of Directors was assembled by CCO's investor group, done in concert with management input and that they (the investor group) did a great job. To Insider that sounds like all key groups working towards a common goal.  Lets hope this stock offering is one of a number of successful steps.
---
Paid Advertisement