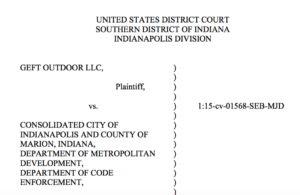 The Southern District of Indiana US District Court ruled last week that GEFT Outdoor is entitled  to damages because two digital signs were denied under an old unconstitutional sign code.  Reed v Gilbert figured into the decision.  Here are the facts:
Indianapolis had an original sign ordinance requiring billboard companies to get a special improvement location permit for any billboard within Marion County.  Insider knows from experience that this made it impossible to get new signs permitted.
The original sign ordinance had an exemption for non-commercial speech which it defined as "a sign which does not advertise products, goods, businesses and services and which expresses an opinion or point of view such as a political, religious, or other ideological sentiment or support of opposition of a candidate or proposition for a public election."
GEFT Outdoor applied for and was denied permits for two digital billboards under the old sign code.
In October 2015, GEFT Outdoor sued for damages and injunctive relief, arguing that the Indianapolis sign ordinance was invalid because the non-commercial speech exemption was a content-based restriction on free speech.  You can find the initial lawsuit here.
In response to the lawsuit, Indianapolis rushed to pass a new sign ordinance removing the non-commercial speech sign permit exemption and instead granting an exemption to yard signs regardless of content.  The ordinance also made several other changes to make the city's sign code confirm to Reed v Gilbert.
The judge ruled last week that (1) the original Indianapolis sign ordinance was unconstitutional and the entire code was invalid because it was content-based, (2) the city is liable for any monetary damages which GEFT can prove under the old ordinance, (3) the new Indianapolis ordinance is constitutional even though it has different rules for on and off-premise signs.
Insider draws three conclusions:
This case is typical of how lower courts interpret Reed v Gilbert.  Content-based sign codes are in trouble.  Restrictions without respect to content are upheld.  Different rules for on and off-premise signs are usually upheld.
GEFT may have a huge damage claim because the two static boards it wanted to convert to digital are in prime locations along the freeway in downtown Indianapolis.  Insider calculates the value of the two, two-sided, digital signs at $4-5 million.  Four digital faces have annual revenue of $864,000  (24 flips a month at 25% vacancy times a monthly rate of $3,000).  At a sale price of 5-6 times gross revenue the signs are worth $4-5 million.
Indianapolis could have avoided these court costs and damages by passing a digital sign ordinance a couple years ago instead of trying to delay a digital ordinance to death.
---
Paid Ad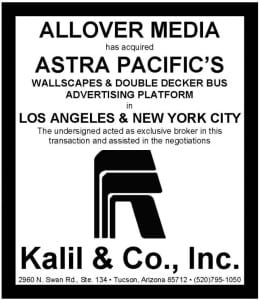 Hits: 4