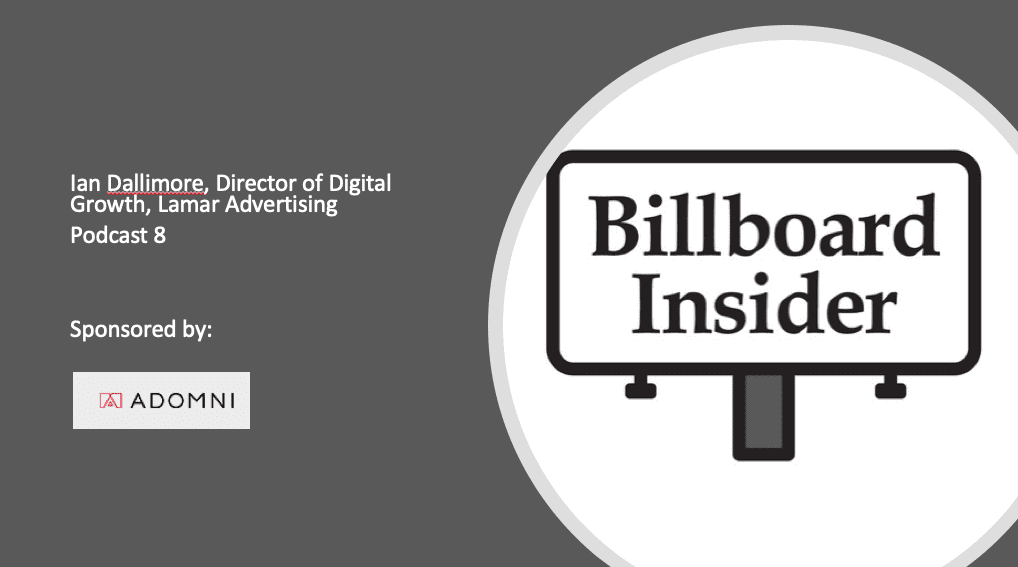 This week's Billboard Insider podcast features Lamar Advertising's Director of Digital Growth Ian Dallimore.  Ian talks about what needs to happen for programmatic buying to increase, how an out of home company can effectively use social media and a not-to-be-missed session at next week's OAAA 2019 show.
Podcast: Play in new window | Download (Duration: 25:34 — 23.5MB)
Subscribe: Apple Podcasts | Android | Google Podcasts | Stitcher | TuneIn | Spotify | RSS
Here are some excerpts from the 25 minute interview.
Lamar CEO Sean Reilly thinks programmatic can contribute $8-10 million to revenues this year.  What has to happen for the programmatic buy to increase?
Think about booking air travel years ago.  You started with a travel agent.  Then you had the likes of Obitz and other platforms.  Now you just go to delta.com.  That's where we're building towards…And we also put a heavy focus that we're not cannibalizing out of home budgets…We want to go after digital agencies that are buying mobile and online and search and we're complementing the existing purchases which are being made by our friends at the out of home agencies.
The other thing that has to happen is there needs to be education of the out of home medium…
Have we seen some 7 figure programmatic buys?
We have…The perception that the industry has about programmatic is that its fake, it's really just automation.  We're truly living in a world where digital agencies are spending these six and seven figure campaigns and they're using real time bidding and real time data to show and play on out of home just as they do on the mobile device…The other misconception is that these buys are only being done top 5 DMA level.  As most of your listeners know Lamar goes deep into 200 DMAs.  We're seeing a ton of buys in the 100+ DMA's because the data shows that these are…the locations that index highest towards a specific plan…
Lamar seems to be more willing to use programmatic out of home vendors than Outfront or Clear Channel.  How can an out of home company use vendors productively when developing automated out of home buying.
Seven years ago Lamar became the first large out of home company to partner with a programmatic company…Vistar and Vistar is still a partner today.  The important thing is that it allowed us to learn a lot…we continue to to that today with our other partners Place Exchange, Hivestack and Broadsign/Reach…Today we take the approach that we have multiple partners and rather than building out our own platform we allow the sales reps at a lot of these great SSP ("Supply side providers")…to be the expert at selling the medium.  We come in along side them at the media vendor days.
How can an out of home company effectively use social media?
Locally and nationally we're streaming live tweets to billboards. We've had a really cool campaign running with Cheetos where we're streaming live tweets in real time about people interacting.  The ability to continue the conversation with social media is important…
My other favorite one is the use of Instagram.  Instagram is the social out of home…For digital out of home it's very simple, just like twitter.  You can have a specific promotion, whether it be coke and share a coke and you take a picture of yourself sharing a coke with a friend, streaming that live to the board…our friends at Colossal the hand paint company – I think that the way that they're doing it is phenomenal.  This is an old school classic company that's hand painting and they have so many of their campaigns that just go viral because people in New York are like, "this is a really cool paint job"…
If you could communicate one thing to out of home clients and ad agencies what would it be.
Our medium has the ability to tell a story every day.  And now even every minute of the day.  So brands are able to be more impactful…We're the only medium that can talk to consumers at a relevant real time, with creative.  Some recent research has shown that when digital out of home campaigns use dynamic creative it increases the overall effectiveness by 48%…I'll be moderating a panel at the 2019 OAAA conference with Dan Dawson at Grand Visual.  He's the chief creative technology officer and Martin Porter who's the SVP at Posterscope…The session is called creating a mind-blowing consumer experience…we're going to take the audience and have them interact with us and we're going to create a real live campaign.
---
Paid Advertisement