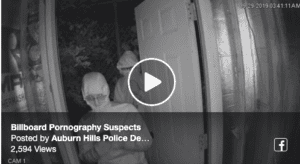 Daily Detroit reports that hackers showed an adult video on a digital billboard owned by Triple Communications along I-75 North between University Drive and M-59 in Auburn hills MI.  The suspects were caught on camera breaking into the building which houses the computer that programs the billboard.
There are hackers in each of your markets who would love to brag about taking over your signs.  "Hacking digital billboards" is one of the most popular search queries on the Billboard Insider website.  Some tips to keep from getting hacked.
Secure your structures.  There would have been no hacking in Detroit if the structure was secure.  Smartlink makes an outstanding intruder detection system which can deter hackers.  Fences, locks and security cameras are critical.  Here are some tips from a 2015 OAAA presentation on digital security. 
Take your router off the internet and use a Virtual Private Network.
Use strong passwords so hackers can't get into the computers which program your boards.
Have a crisis plan.  Know who to contact 24/7 in case of a hack and have a plan for regaining control of the billboard.  Develop a relationship with local law enforcement officials because they'll probably be called first.
What are your thoughts on keeping digital billboards secure?  Let insider know using the form below.
---
Paid Advertisement