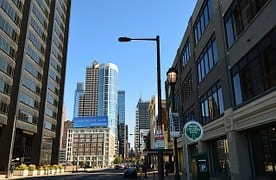 philly.com is reporting that the federal government has taken regulatory control of billboards along the Market Street East corridor away from Philadelphia, saying the city had not been responsive to questions about enforcement.
The state already has oversight of the rest of the city. Market Street East, which saw its first LED digital billboard go up last year, was to be an exception.
The letter said the city had not done its part in assuring state and federal officials that it was making sure outdoor advertising along Market Street East was in compliance with all regulations.
City spokesman Mike Dunn said the administration believes the Market East regulations and current signs meet federal guidelines.  Dunn indicated that now that they have been made aware of the issue at hand, they are working with both PennDot and the federal government to resolve it.  He added that ad revenue from the signage is important to the vitality of Center City.
Eugene Blaum, PennDot spokesman, said the department is working to take oversight and cancel the Market Street East Advertising District.
The takeover became public when Mary Tracy, president of the nonprofit Scenic Philadelphia, put out a news release Tuesday calling it a "victory." Scenic Philadelphia is an affiliate of Scenic America.
Insiders Take – With the appeals court ruling ruling last week on the Scenic America case, don't expect Scenic America to reduce their efforts. 
---
Paid Advertisement