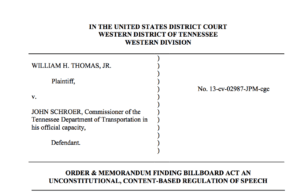 By Ken Klein, EVP – Government Affairs, OAAA.
Last Friday a federal court invalidated Tennessee's billboard control act, citing the US Supreme Court's 2015 ruling against sign regulation based on content.
The State is likely to seek a stay pending an appeal to the US Sixth Circuit Court of Appeals.
Friday's 44-page ruling in federal court is part of broad fallout from the US Supreme Court's unanimous decision in Reed vs. Town of Gilbert, AZ (2015).  In Reed, the high court said the local government erred by treating temporary church signs differently than other temporary signs, such as political signs.
The Reed decision has been invoked in range of free speech disputes, to support diverse forms of expression such as panhandling and taking "selfies" in ballot booths.
In the sign case in Tennessee, US District Court Judge Jon P. McCalla ruled that Tennessee's "Billboard Act is an unconstitutional, content-based regulation of speech."
After the Reed decision nearly two years ago, the billboard industry has sought to defend the basic policies of the Highway Beautification Act (HBA) and its counterpart state laws.  The Outdoor Advertising Association of America (OAAA) assisted the State in defending Tennessee's billboard-control law; the Outdoor Advertising Association of Tennessee likewise filed an amicus brief.
In 2016, a state appeals court in Texas invalidated key sections of the State's billboard-control act, based on Reed.  A consortium of billboard companies that operate in Texas soon will submit an amicus in support of the Texas Solicitor General's request to the Texas Supreme Court to review the appellate ruling (Auspro Enterprises vs. Texas Department of Transportation).
Other courts, including in California, have ruled (after the Reed decision) that billboard controls achieve proper regulatory balance without suppressing speech based on sign content.
In Reed, six of the nine justices on the US Supreme Court seemed to accept the on-premise/off-premise distinction that forms the basis for sign regulation, as well as other common regulatory distinctions such as illuminated vs. non-illuminated and electronic vs. non-electronic.
---
Paid Advertisement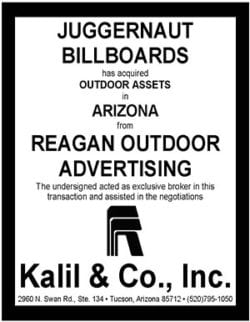 Hits: 1