San Francisco's required warning labels on ads for sugary drinks violates First Amendment free speech protection, a federal appeals court has ruled.
The ruling was a victory for out of home advertisers, the beverage industry, and retailers.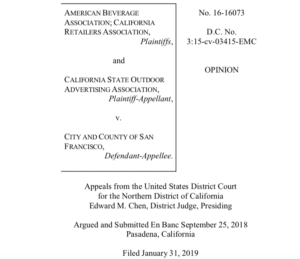 On January 31, the full US Ninth Circuit Court of Appeals (11 judges) unanimously affirmed a 2017 decision by a three-judge appeals panel.  The City of San Francisco asked the full appeals court to review the case.
The full court reached this outcome: "The en banc court . . . concluded that Plaintiffs will likely succeed on the merits of their claim that the Ordinance is an 'unjustified or unduly burdensome disclosure requirement [that] might offend the First Amendment by chilling protected commercial speech.'"
The full appeals court ordered a lower court to issue an injunction against implementation of the warning-label ordinance.
The appeals court said the city's claim that sugary drinks can lead to obesity and other health problems was not based on established fact.
City officials said they would explore ways to modify the warning label that would pass court review.
San Francisco's warning-label ordinance was approved in 2015, a first-in-the-nation mandate on advertisements for sugary beverages.
Industry groups challenged the local ordinance on constitutional grounds, including the American Beverage Association, California State Outdoor Advertising Association, and California Retailers Association.
Insider asked California attorney Richard Hamlin of Hamlin Cody to comment on the case and he said this: "While the case is a win on the result, the majority opinion holds danger for free speech.  The majority used a "rational relationship" test to evaluate the case.  That test is much friendlier to restricting commercial speech than the "heightened scrutiny" test used in Central Hudson."
---
Paid Advertisement