On Easter Sunday, a random victim, 74, was killed in Cleveland, OH, by a distraught man who posted the crime on Facebook.
The next day (May 17), the FBI activated donated digital billboards nationwide as part of the search for a fugitive.  Immediately, this "wanted" message appeared in Ohio and across the country: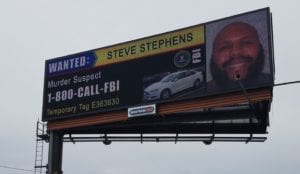 (Photo by Mike Norton, Norton Outdoor Advertising)
This year marks the 10th anniversary of the FBI's use of digital billboards on behalf of public safety, a practice that was pioneered in Philadelphia.
Fifty-seven FBI cases have been resolved as a direct result of information posted on digital billboards, according to Chris Allen at FBI headquarters.