Durden Outdoor is running an award winning ad campaign with a moving extension for a Bryan Pharmacy.  Insider talked with Bill Durden about campaign and how the company is holding up during COVID.
How did you come up with the creative idea for your Boll Weevil?
The last time we did a motorized object on a billboard was 6 years ago and it was a beast!!!  We designed & built a 12′ door that opened and closed that promoted the new GMC Sierra that was coming out that year. This took a lot of work but my production and creative team earned a notch in their belt.   See a video of it here.
So since doing this first one, we've been trying to find the right client and the right idea to do it again.  We figured out the cost and built it into a monthly rate over a 12 month contract as most clients in smaller markets don't have a budget to pay you several thousands of dollars upfront.  So you have to have a client you can trust.
Our client Bryan Pharmacy contacted us about wanting to get a fiberglass BOLL WEEVIL character concept created……so we said "HELL YES!!!"  After the concept of Bryan the Boll Weevil was installed at the clients two pharmacies, we thought……hmmmmm…..why can't we take this character and use him for the client's 2019 / 2020 annual static / digital / poster billboard campaign.  So then the ideas started buzzing and the Boll Weevil
waving at 25,000 cars per day
welcoming them into Enterprise, AL was born.
What challenges did you have in constructing and installing the motorized arm?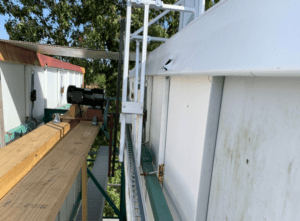 There was most certainly challenges, but my team was hungry for the challenge!!  It broke 3 or 4 times in the first two weeks.
 The arm had a pivot point on the bottom and we used garage door track to secure it to the top part of the panels.  Then we fabricated a light gauge steel frame to mount the arm which was made of 10 millimeter chloroplast.   We used a
27 RPM MOTOR
and a 6″ pulley the first go around.  But this was turning the pivot arm way to fast, so we swapped it out with an 8″ pulley and that did the trick.  About a month later we had to customize a belt tensioner to avoid slipping.  After these tweaks she has ran pretty steady for 8 months now.   When building a large mechanical device like this, you've got to engineer this arm that is 40′ in the air to withstand a hurricane.  That's the fun party
What have been the results?
The client loves it and gets comments from customers in person and on social media all the time!!  They were also patient with us in the beginning while we got everything smoothed out with the mechanism's.   Every year this client allows our creative team to reach way outside the creative envelope.  We have a great partnership.
What impact, if any, has covid had on your business?
April and May were 15-18% off from budget, June was great, but now July is looking to underperform.  Auto, boat dealers can't get any inventory so they don't want to promote.  Our event/tourism category took a huge hit since March 16.  But the mortgage and realtor category has held strong for us.
---
Paid Advertisement