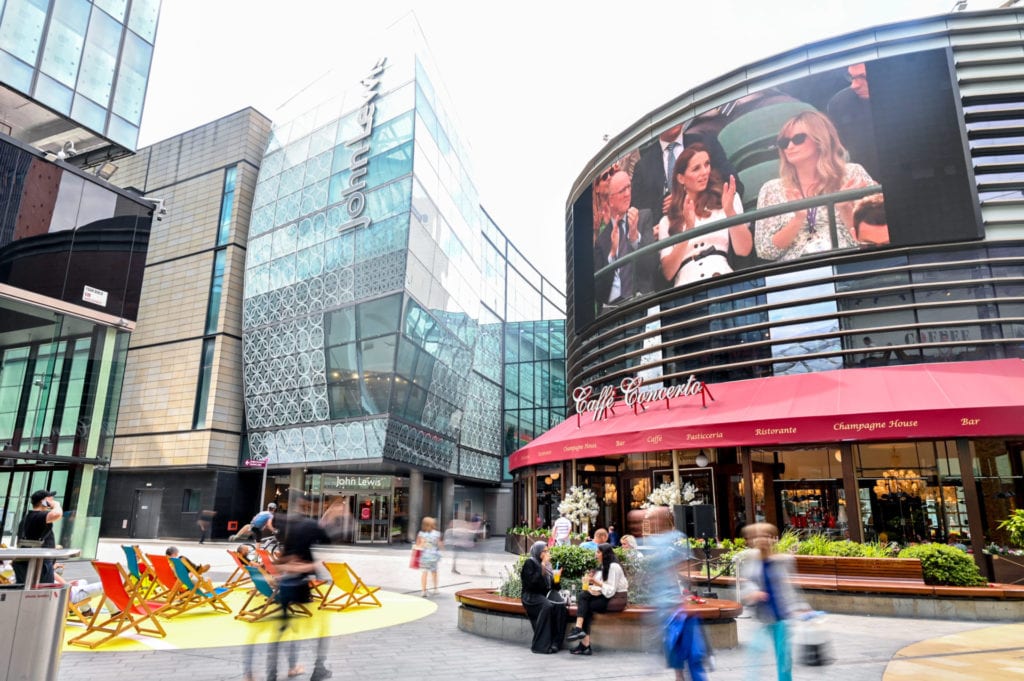 LONDON, UK: In a UK first, premium digital out-of-home (DOOH) media owner Ocean Outdoor has established the powerful interplay between advertising and content in DOOH environments using neuroscience.
With so few content media channels able to provide a shared sense of experience at scale, the new study establishes Ocean's credentials as the fourth broadcast channel. With its inventory of screens in prime, hand-picked locations with long sight lines, the study concluded that Ocean's content solutions can deliver live streamed, dynamic content alongside relevant advertising to drive up effectiveness five times against pure ad play alone.
Conducted by COG Research, this is the first-time eye tracking technology has been combined with skin conductance response (SCR) monitoring to measure and analyse audience engagement with large, full motion digital screens in outdoor spaces.
The study focused on Ocean's content partner, The All England Lawn Tennis Club and the Wimbledon Championships. Working with Wimbledon's official car partner Jaguar, Ocean brokered a deal to broadcast ads, pre-scheduled highlights and live content from the world-famous tennis event in its 12 UK digital cities and in both Westfield London and Stratford City.
The results, based on the DOOH activity at Westfield London, conclusively found the screening of dynamic live and pre-scheduled highlights content, alongside bespoke ad creative – a format not dissimilar to TV advertising – triggered a significant behavioural change in the study's participants: in outdoor environments showing DOOH content, eye movement slowed and focused, gaze dwell time increased, cognitive load was reduced and crucially brand engagement and affinity were boosted.
Compared against pure ad play only, and analysing several different formats of content and ad sequencing, the study revealed:
DOOH highlights content followed by ads is 5.1x more engaging
DOOH ads followed by highlights content is nearly 4x more engaging
Dynamic (live scoreboard) content alone on DOOH screens was 5x more engaging
Live match content alone on DOOH screens was almost 9x more engaging
The results clearly demonstrate that full motion, DOOH screens displaying dynamic and highlights content and advertising working in tandem delivers more effective brand environments to engage with audiences at scale.
Additional study highlights revealed positive brand affinity and awareness around the activity. After completing the eye tracking and SCR fieldwork, the next day the same participants were asked to take online awareness and implicit brand testing surveys:
71% of participants agreed the activity made Jaguar more memorable
57% of participants agreed the activity made them view Jaguar more positively
Implicit brand response testing revealed quick and easy agreement with many of Jaguar's core brand values after the activity, including being sporty, dynamic and stylish – all values the advertiser wanted the activity to convey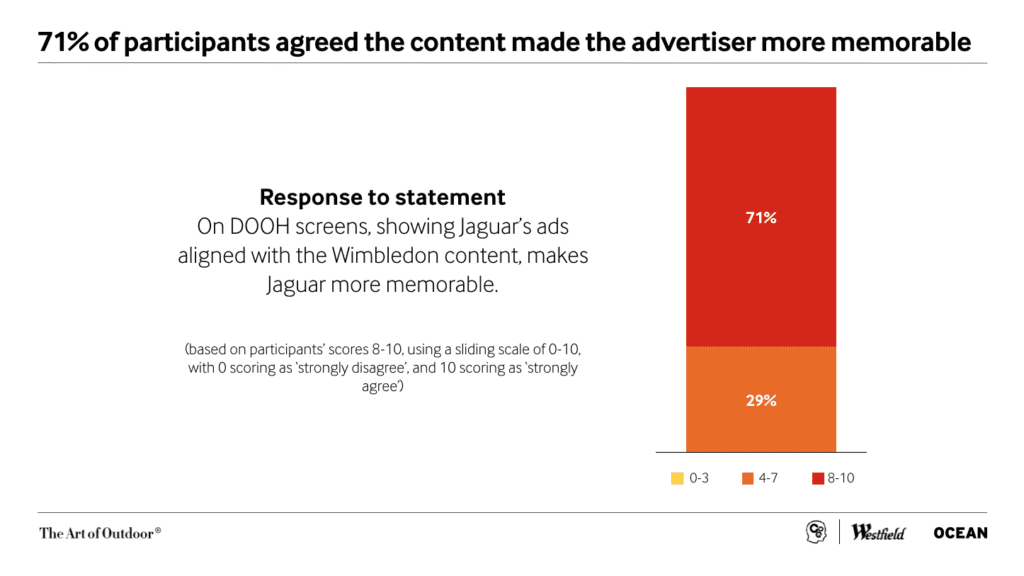 Finally, the research also looked at the experiential activity running concurrently with the DOOH activation. Jaguar set up a viewing area at Westfield Square, with deck chairs, large format digital screens and an outdoor car show room. For participants viewing the live content combined with the experiential activity, engagement was ramped up almost three times.
Ocean head of content and sponsorship Kevin Henry said: "This study proves that DOOH is an amplifying channel for our content partners. By offering highly engaging digital and experiential activations, out of home uniquely extends the reach of broadcast content.
Paul Buttigieg, director of commercial partnerships Europe, Unibail-Rodamco-Westfield, said: "In addition to being the standout retail destinations in London, Westfield London and Stratford City's ambition is to deliver new and memorable experiences for its customers. The combination of large format DOOH screens, live-streaming and experiential spaces create an emotional engagement to the brand and enhance our shopper's visit.
Robert Herd, Jaguar head of communications and PR, said: "To achieve maximum results we leveraged Ocean's full motion outdoor network to drive awareness of our sponsored live-streaming and tournament content. This channel was a key element of an integrated campaign generated by Dentsu X and Posterscope, the post campaign results show how creative campaign planning can drive success and we are delighted with the significant results achieved."
The findings build on an earlier neuroscience study, conducted by Neuro-Insight for Ocean, which demonstrates the enhanced impact of exposure to DOOH live streaming content on brain responses.
---
Paid Advertisement