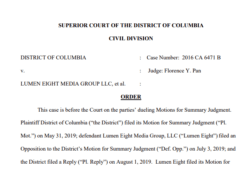 On Monday, Washington DC won a lawsuit against Lumen Eight, the successor company to Don MacCord's Digi Outdoor Media.  Digi Outdoor Media installed 43 digital billboards at 17 locations in Wash DC.  The company tried to circumvent Wash DC's ban on digital billboards by installing the signs inside windows of buildings or recessed within the footprint of buildings.   Digi Outdoor founder Don MacCord pleaded guilty to fraud charges.  Wash DC Council Member Jack Evans resigned after it was discovered that he had been paid stock and a consulting fee from Digi Outdoor.
The DC court rejected Lumen Eight's contention that the signs do not need a permit: Lumen Eight's calculated plan to present the district with a "fait accompli" bars the company from obtaining equitable relief…Because Lumen Eight's signs require permits under the new sign Code and its right to erect those signs did not vest before the Emergency Rule was enacted, Lumen Eight may not erect its signs in the District of Columbia without obtaining sign permits.
Insider's take:  The tawdry Digi Outdoor Media case draws to a close.  Digi Outdoor should not have attempted to erect the signs.  But cities which opt for a digital billboard ban run the risk of increased legal fees as operators challenge bans or seek a way around bans.  Better to adopt enlighted time-place-manner regulations.
---
Paid Advertisement