This is the last post in a series by Dave Daucanski on out of home sales leadership.  Daucanski spent 15 years experience in out of home advertising sales and sales management most recently with Clear Channel Outdoor in Dallas and Florida and prior to that at All Over Media and Lamar.  Daucanski recently accepted a position at New Horizon Learning Centers.  You can reach Dave at davewpb@bellsouth.net.
As I move on to my next mission in life I felt it appropriate to share some observations from the field.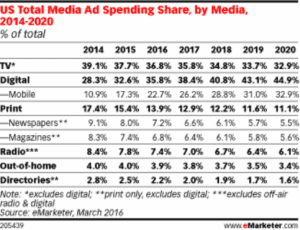 Look at the Total Media Spend forecast to the right.  eMarketer projects that out of home will continue to lose share over the next three years.
What can we do to stimulate this 100+ year old industry and change the year 2000 mindset realizing we are in 2017?  Let's Focus on 3 Ps
Product
How about some name changes to the products as many OOH users and buyers aren't familiar with the descriptions?
Poster?  Isn't that a display tacked to your bedroom wall with Farrah Fawcett or Bon Jovi?  We had great success in Dallas attracting new and first time OOH clients with a simple name shift to "Neighborhood Displays". I recall the many meetings we had with first time OOH users that when we explained the product this way; the light bulb turned on for them.
Bulletin?  Isn't that what the usher hands to you as you exit church on Sunday?  How about "Highway Display."
Premier Panel?  This is the oddest one out there. Is that a group of critics that watch a movie premier?  It's just a poster wrapped in vinyl or located in a premium location that allows for a higher rate.  This causes confusion for the client and sales people when they are aware there are two prices available for the same product with very subtle enhancements.  Why is it more expensive short term than long term? Think like the client..your car payment isn't less when you opt for a 36 month lease versus a 48 month term.
People
Executive Leadership has an average tenure of 20+ years in a hundred-year-old business.  This is significantly different from the other media products available for clients.
Take a walk through your offices and count the number of people over 50 versus the number of people under 30. Does this represent your market's landscape and your average client? Hopefully you have an even mix so that the younger execs can talk the talk with the younger clients who like the sexy digital displays and enhanced mobile offerings.
While taking that walk assess the tenure..how many have 10+ years versus those with less than a year experience. You need to coach and develop the latter group as they represent the future of the industry.
I was shocked when I moved to the Dallas office to find that we didn't have one salesperson on the team that spoke Spanish.  We changed that rather quickly as I knew we were missing out on an important part of the advertising community. So look at your team and your market and decide if you have the right mix.
Performance
If the company really wants to increase the media spend share you need to move the needle on compensation.  Have senior leadership shift to a 50/50 compensation plan so that they have skin in the game and learn to listen rather than tell.
Shift those salaries to the front-line teams and those behind the scenes. This will help attract top talent to the industry.
---
Paid Ad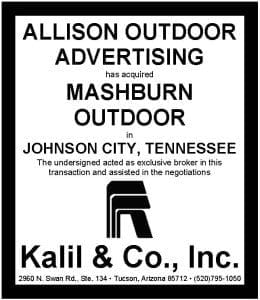 Hits: 0