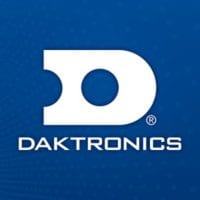 Daktronics revenue grew slightly but net income declined during the second quarter of fiscal 2020 (3 months ended November 2, 2019).  Here are the results from the earnings release and earnings call for the digital billboard manufacturer.
Revenue grew 1% to $175 million during the second quarter of fiscal 2012.  CFO Sheila Anderson highlighted the company's digital billboard success: "For the first half of the year, we have had continue success in global and regional out of home advertising customers as they continue to build out their digital networks."
Net income declined 15% to $7.3 million during the second quarter of fiscal 2020.  CEO Reece Kurtenbach stated that the company's net income was hurt by "higher project delivery costs and tariff related expenses compared to the same period last year."
Kurtenbach was optimistic about the outlook for the digital billboard business due to "continued replacement and new investment activity in the out of home and retail segments, and opportunities in the spectacular segment."
Insider's take: Tariffs hurt, but Daktronics remains profitable.  The company closed the day down 5.6% to $6.28 on a day when the S&P 500 was up 0.25%.
---
Paid Advertisement