In this month's '3 of a kind' feature the Daily Billboard Blog is looking at creating a spectacle in the skies with the help of life-size 3D mannequins.
The first example is from June 2011 when mannequins were literally hanging from billboards around the streets of L.A., including along the busy Sunset Strip and La Brea Avenue, to help engage passersby for the second summer of Universal Studio Hollywood's new King Kong 360/3-D attraction. The billboard installation really conveys the excitement of the ride and looks like human visitors are actually dangling from the studio tour tram as the giant monster gorilla grabs for them.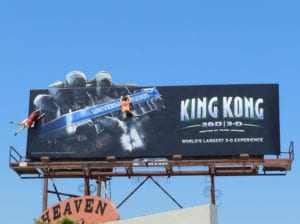 The second example is to draw attention the second season of Lifetime's TV series, The Client List. In the provocative show Jennifer Love Hewitt's plays a massage therapist offering extras to her male clientele (whilst keeping her work to help pay the bills a secret from friends and family) and this Sunset Strip billboard from February 2013 clad in businessmen clamoring for her, show's she's really in demand.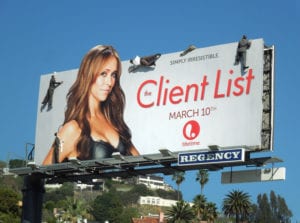 The third and final example using these eye-catching mannequins is for Mercedes-Benz and to promote their all-new CLA . In this example from above the Sunset Strip in September 2013 the luxury car brand is using a life-size mannequin to pretend that someone is still installing the billboard to help catch commuters eyes. Car advertising primarily tends to focus on the look of the vehicle itself as the selling point in their outdoor ads, so it's nice to see a car advertiser using this kind of disruptive gimmick to turn heads as a point of difference.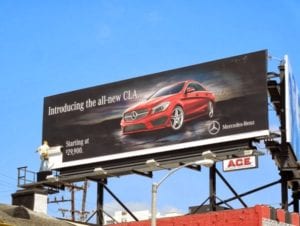 As you can see this technique can work across entertainment, tourism and auto advertising, to name a just a few genres. Be sure to also check out these other fun billboard mannequin examples for
The Campaign movie
from summer 2012.
Come back next month when we'll be taking a look at some clever billboards using neon lighting to stand out by day and night.