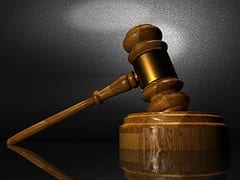 In a recent lawsuit, D.C. Attorney General Karl Racine is requesting removal of a number of brightly-lit electronic signs erected downtown to play advertisements.
The complaint at D.C. Superior Court names Digi Media Communications and a number of downtown property owners and operators for "illegal construction," calling for injunctive relief.
The complaint says that:
Digi Media has put up the signs "despite having no sign permits to do so and in clear violation of the District's subsequent orders to stop." It cites a brochure that the company is planning to have 52 such digital billboards on 20 sites.
Digi Media never applied for the proper permits to install the signs and did not stop installing them despite orders to do so from the D.C. Department of Consumer and Regulatory Affairs.
The company disagrees saying  they cooperated with permitting regulations, and all construction work was fully permitted.
The D.C. Attorney General wants the installation of further signs stopped, and the current ones removed stating that illegal brackets and the LED signs pose a serious and significant threat to public safety.
In addition to Digi Media, the suit names several major local development companies.
You can find an exhibit from the complaint with more info here. 322750029-Digi-Media-Brochure.pdf copy
You can read more on this story at dcist.
---
Paid Advertisement