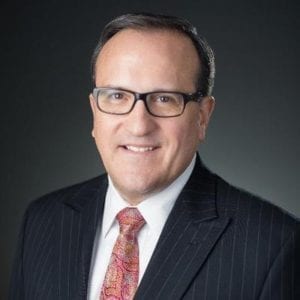 Last week, OAAA Chief Marketing Officer Stephen Freitas participated on a panel during the annual Wells Fargo Media Summit in New York. The panel, Current Ad Trends from the Sector Level, also featured other trade group executives including, Erica Farber, Radio Advertising Bureau (RAB), and Steve Lanzano, Television Bureau of Advertising (TVB). The session was moderated by Davis Hebert, Wells Fargo Securities.
DH: The audience just heard from Vince Letang, EVP for Global Market Intelligence, Magna Global. Do you more or less agree with his outlook for ad spending and for your sector overall?
SF: Out of home (OOH) has maintained unbroken quarterly growth since the second quarter of 2010. In the first half of 2018, OOH was up 3.6 percent. DOOH is growing at an accelerated pace and represents approximately one-quarter of total OOH share (including cinema).
DH: The underlying economy seems strong, yet many traditional media channels are struggling to grow in the digital era compared with GDP. How do you think a continued economic expansion will impact your sector? 
SF: OOH growth in the first two quarters of 2018 has been on par with Real GDP.
DH: The auto category has been a bit of a mystery so far this year and has weighed on the top line for many companies in the advertising world. Do you anticipate the category will turn in the quarters ahead?
SF: For OOH, Auto was down 3.5 percent in the first half of 2018 but remains a top 10 category. Auto ad spend is down across the board. It's a systemic decline effecting all media channels.
DH: What categories are the largest for your medium? What would you call out as the stronger or weaker categories?
SF: We've seen the biggest growth in Retail, Political (up 13% this year), and Insurance. QSR and Entertainment remain two of the largest categories with McDonald's the top OOH spender for the past decade. Apple has maintained the #2 spot during the same period and the tech sector is one of the largest OOH categories today with 4 of the top 10 OOH spenders being tech brands. One third of the top OOH spenders in the first half of this year more than doubled spend compared to 2017.
DH: Political has been a nice surprise for investors. What is your reaction to political numbers? Do you think 2020 will see the same tailwind or will the Trump factor return again? Political spend could reach record levels in 2020.
SF: It won't be just about the presidency with so much more spent down ballot, in local races, which accounts for a sizable portion of the OOH spend. Democrats got a taste for winning down ballot races, and they will likely try even harder next time. Political Action Committees have found success with OOH, too. OOH political spend this year was at an all-time high, a surprising fact since it was a mid-term and not a presidential election year.
DH: With all the negative press around Facebook and privacy concerns, are you hearing of any digital money that is coming back into your space?
SF: There have been antidotal examples, but no factual metrics at this point.
DH: Stephen, the tech sector has been a big spender in the outdoor space – Netflix has even bought billboards – what do you think is driving this trend?
SF: Digital brands need presence in the "real" world and OOH delivers that presence. A digital strategy is incomplete without OOH which drives people from the real world to the digital world. It is big screens driving consumers to small screens. OOH and mobile are an ideal media mix because people can go immediately online as they pass an OOH ad.
DH: Much has been made of big data being an influence for advertising going forward – at the Radio Show, for example, Bob Pittman from iHeart and David Field from Entercom opened the conference up discussing this topic? How can big data change your sector's trajectory?
SF: Data is everything. Data allows OOH companies to tell a more complete story about the effectiveness and power of the medium. OOH is using mobile data, among other important data sources, to illustrate consumer behavior and mobility in the physical world. The industry is focused on attribution research, too. OAAA has several studies currently in the field and our members are offering attribution research for more and more client campaigns.
DH: We hear a lot around automated buying. Can you simplify what this means for your sector? What are companies doing in the sector to capitalize?
SF: OOH is tapping into programmatic platforms and agency trading desks to expanded reach into other revenue streams. In many ways, a screen is a screen, so DOOH fits into the programmatic ecosystem very well. This is an advantage for brands, because linking DOOH with online provides complete exposure within the consideration funnel.
DH: No one loves the subject of measurement, but it seems it's a necessary topic to focus on. With the emergence of digital, where would your sector like to see more progress in capturing audience measurement? Stephen, what can you tell us about Geopath?
SF: Geopath embarked on an ambitious reinvention plan a few years ago and now, an all-new measurement protocol will be released early next year. It's been in beta for a while. Geopath is using massive data sets – including the integration of mobile and GPS data – to tell better stories about the value of OOH. The enhanced measurement approach will provide unit-level metrics for a vast number of unique audiences.
DH: Stephen, digital means something a little different for out of home – although you can see a multitude of digital screens beyond just traditional billboard. What is the future of digital for your industry?
SF: The one difference between digital and OOH is that DOOH is one-to-many. But, data makes discrete targeting possible. The dynamics of DOOH content also makes OOH messaging very nimble, with an ability to chance content based on real-time conditions.
DH: Stephen, out of home is really the original location-based media, but how has the mobile world shifted the opportunities for OOH players? Do you think it more touches things like pedestrian-focused transit or street furniture, or is there a billboard play too?
SF: Clearly, there is real opportunity for OOH to link with pedestrian level formats, especially related to virtual reality and touch technology. But, the opportunities are enormous related to billboards, too. The linkage of mobile data with OOH can make any OOH campaign more targeted. Then, DOOH ads and mobile ads can sync offering continuous messaging, sometimes serving offers or other benefits to consumers. Many billboard companies now offer creative and placement services for combined OOH and mobile programs. This is happening in small and larger companies.
DH: Let's end cap the panel by throwing some 2019 thoughts out there. What is your outlook for revenue in your sector in 2019?
SF: The OOH industry has been trending up 3-4 percent and we expect the trend to continue or improve for several reasons:
Brands recognize the intrinsic ability for OOH to enhance a media plan providing impact for the upper parts of the consideration funnel.
Enhanced Geopath ratings will launch next year, which will provide even more valid OOH proof points.
Programmatic planning and buying are evolving swiftly and will continue to simplify transactions and bring in new dollars from new sources
---
Paid Advertisement