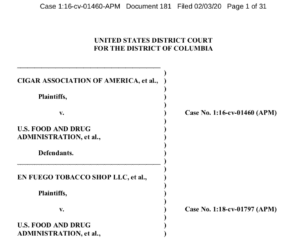 A federal judge ruled that regulators "failed to articulate a reasoned basis" for mandating warning labels for premium cigar advertising and packaging.
Warnings for premium cigars, which had not gone into effect, were vacated by US District Court Judge Amit P. Mehta on February 3, 2020 (Cigar Association of America et al v. US Food and Drug Administration et al).
The judge told the federal agency (FDA) to try again.
"The court finds that the FDA's subjecting of premium cigars to warnings requirements to be arbitrary  and capricious and in violation of the (procedures act), insofar as the agency failed to provide a reasoned explanation for this action," Judge Mehta said in a 31-page opinion.
For printed advertisements, the FDA wanted warnings to comprise at least 20 percent of the advertisement and at least 30 percent of the principal display panels of premium cigar packages.
---
Paid Advertisement