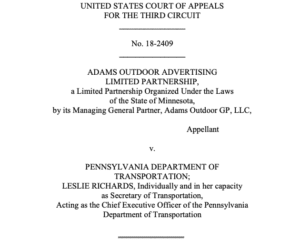 A federal appeals court ruled against open-ended delays in responding to billboard permit applications and also took a swing at Pennsylvania's prohibition against billboards near interchanges.The ruling was issued July 15 (Adams Outdoor Advertising v. Pennsylvania Department of Transportation).
Background
Adams applied for a state permit in 2016 to install a billboard along US Route 22 in Hanover Township; the application was pending more than a year. Pennsylvania DOT denied the application, after Adams sued, because the proposed location was less than 500 feet from an interchange.
Key points in the case
Time limit – For billboard companies, protracted decision making by government agencies is a common frustration. The appeals court ruled in Adams' favor on this point.  "The (Pennsylvania Outdoor Advertising Control) Act contains no time limit at all, and neither do the regulations implementing it. In practice this has caused permit applications to remain pending for prolonged period of time – sometimes more than a year, as occurred to Adams' application here."  The appeals court concurred with the lower court's decision to block Pennsylvania DOT from enforcing the permit requirement "until there is set a time that satisfies the First Amendment."
Free speech – Adams said the interchange prohibition violates its free speech rights. The federal appeals court sent this part of the case back to the federal trial court, ordering the government to show that it's not violating the First Amendment.  "(Pennsylvania DOT) Secretary (Leslie) Richards bears the burden to justify the restraint it imposes and the exemptions it provides," the appeals court said. "She has not done so on the current record. On remand she will have that chance."
Vagueness – Adams said the interchange prohibition is unconstitutionally vague. The court disagreed, ruling that the prohibition is clear.
Attorney Victor F. Cavacini of Gross McGinley based in Allentown, PA, argued the case for Adams.
---
Paid Advertisement