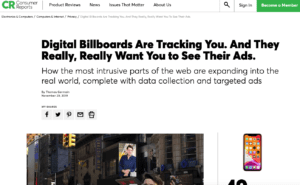 The respected Consumer Reports  has published a post on the use of data.  You may be asked about it.  Insider makes these observations:
Respect for privacy is important; our use of data is anonymized.
Our goal is to match messages to audiences while respecting privacy.
Learn more about privacy and how to talk about it.  Sign up for OAAA's Dec 3 Seminar What the California Privacy Law means for OOH.  The California law takes effect January 1, 2020.
---
Paid Advertisement