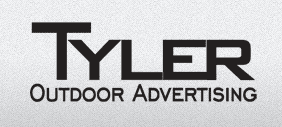 Company: Tyler Outdoor
Markets: Oklahoma.
Headquarters: 5101 S. Shields Blvd, Oklahoma City, OK  73129
Phone: 405-616-5000
Tyler outdoor was founded in 1965 by Ralph Tyler. Tyler Outdoor owns 1,500 digital billboards, static billboards, bus benches and bus shelters in Oklahoma City, Edmond, Midwest City, Norman, Stillwater and Tulsa. Tyler Outdoor is part of a local, family owned business by sons Ty and Tony Tyler. The family also owns 14 radio stations, five TV stations and a commercial sign shop. Insider talked with Tony Tyler about the family business.
How did the family happen to enter the outdoor business?
Ralph, our dad, owned a radio station in the 1970's and began putting out "Courtesy Benches" at bus stops and installing 8-Sheets around town to promote the station. Other business began asking if they could buy advertising and an outdoor advertising company was born.
You own radio stations and TV stations and a commercial sign shop in addition to your outdoor business. Are there any synergies?
Some, but fewer that one would think. There is some cross-selling of our products and our back office operations, like accounting and HR, have synergies. The production of each product is different so once the advertising is placed the process goes in different directions.
Who's digital signs do you use and what's been your experience?
Because we have a commercial sign shop, we began making our own digital boards. After trying this for a few years, we have moved to another local vendor here in OKC and Watchfire. Both are excellent products with great service.
Are you using any of the automated solutions (e.g. Adomni, Blip, Adquick, Vistar) to sell digital billboard advertising?
We are investigating this sales strategy but have yet to adopt anything.
What's the transit advertising business like?
From a sales perspective, we are very fortunate to have such great products and placement.  One of our long time co-workers calls our Bus Bench and Shelter Displays, "curb-side billboards".  He says its the closest advertising to the vehicle.  Transit sales is like bubble gum, you have got to sell a great deal of it to move the needle.
In February you purchased some Lindmark out of home assets in Oklahoma.  How's the integration going?
We are lucky to have acquired these Lindmark assets.  The assets were top notch, and managed effectively.  Additionally, we have an amazing sales and operations team that have been able to wrap their arms around these assets and continue to build on a great foundation created by Lindmark.
---
Paid Advertisement