Company:  Quality Outdoor Advertising, LLC
Headquarters:  225 County Road 1291, Cullman, AL 35058
Markets: Quality Outdoor has over 200 billboard locations throughout the North Alabama area. The locations vary in size from 12′ x 24′ side-by-side to 12′ x 50′ locations on local highways to 14′ x 48′ locations on Interstate 65.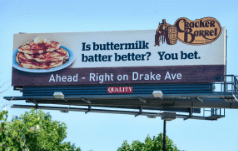 Phone: 256.734.9030
Email: qualityadv@gmail.com
In 1987 Mitchell Hembree started Quality I/N Signs and Outdoor Advertising in Cullman, AL. Starting out as a commercial sign shop specializing in the building and manufacturing of electric and painted signs it has evolved into a full service outdoor advertising company that operates over 200 billboards in the North Alabama area. From billboards to commercial signs, interstate logo signs, trailer graphics, crane rental and the design of the artwork they work to meet all their customer's outdoor advertising needs.
---
Paid Advertisement