Company: Ad Focus, Inc.
Headquarters: Denver, CO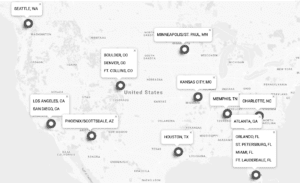 Markets: Including
Colorado
Seattle, WA
Florida
Atlanta GA
Minneapolis, MN
Kansas City, MO
Memphis, TN
Los Angeles/San Diego, CA
Phoenix/Scottsdale, AZ
Houston, TX
Charlotte, NC
Phone: 303.292.2450
Email: hello@theadfocus.com
Ad Focus offers unique and effective OOH advertising solutions. Their products include digital & mobile billboards, indoor and outdoor digital kiosks, taxi ads, pedicab wraps, branded electric shuttle wraps, party bike advertising, digital networks and ride share advertising. Ad specialize in providing outdoor & OOH advertising in high profile locations where other media may be limited or non-existent.
---
Paid Advertisement