Clear Channel Outdoor announced 4th quarter 2018 results.  Here are the results of the earnings release, earnings deck and the seeking alpha earnings call transcript.
Consolidated revenue excluding exchange rates increased 5% to $765 million for the fourth quarter of 2018.   Americas Outdoor (Clear Channel US and Clear Channel Canada) was up 7.6% during the fourth quarter of 2018.  Here are the results for Americas Outdoor: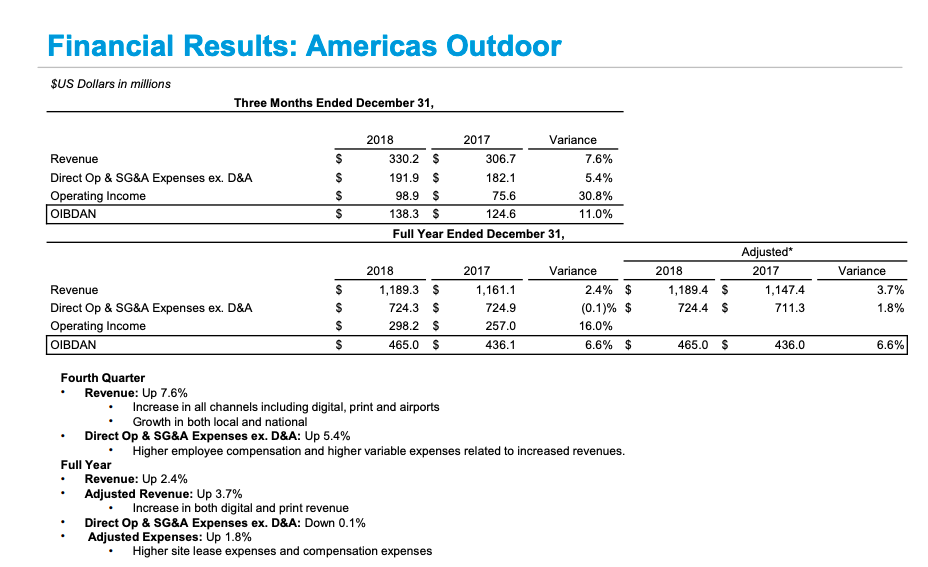 Consolidated cashflow (operating income before interest, depreciation and amortization excluding exchange rates) increased 1.4% to $195 million during the fourth quarter of 2018.
The company added 29 new digital billboards in the fourth quarter in the United States for a total of 1,285 digital displays.   The company added 446 new digital displays in the fourth quarter in International markets for a total of 13,500 displays.
Leverage remains high.  Clear Channel Outdoor has $5.3 billion in debt.   Debt/Cashflow is 6.9 versus 3.7 for Lamar and 4.7 for Outfront.  Insider thinks Clear Channel Outdoor needs to shed $1.4 billion or about one-quarter of debt to reach sustainable leverage of 5:1.  Clear Channel Outdoor CFO Rich Bressler said the company's board is focused on leverage but he declined to give specifics as to what steps the company would take to reduce leverage.
Bressler said iHeart Media expects to exit bankruptcy and to spin-off clear Channel Outdoor during the second quarter of 2019.
Insider's take:  Great results for North America.  Disappointment elsewhere. Expenses are stubbornly high and most of the revenue gain never made it into consolidated cashflow.  Maybe that's why the market was unimpressed.  Clear Channel declined 6% to on a day when the S&P was down 0.7%, Lamar was down 0.2% and Outfront was flat.
---
Paid Advertisement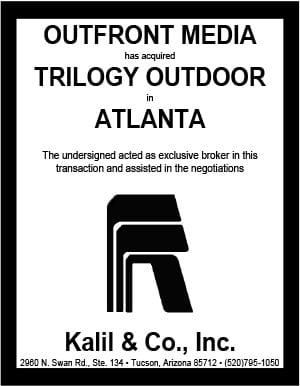 Hits: 1