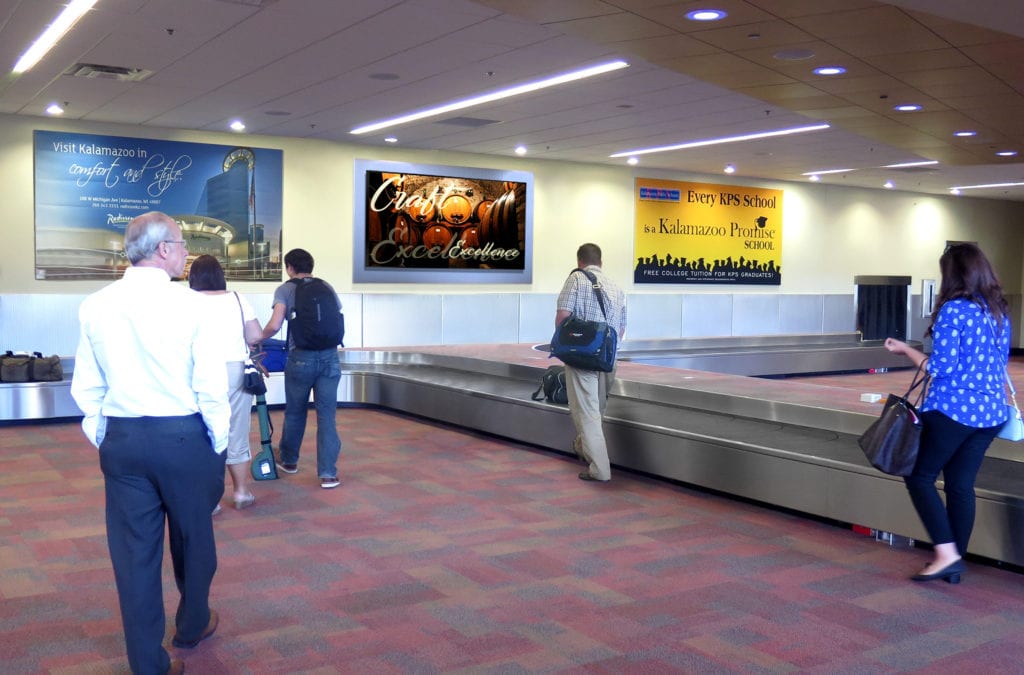 Kalamazoo, MI  – 
–
Clear Channel Airports
 (CCA), a brand division of 
Clear Channel Outdoor 
Americas
 (CCOA) (NYSE: CCO), an indirect subsidiary of iHeartMedia Inc., today announced it won a five-year renewal with an option to extend for an additional five years, with Kalamazoo/Battle Creek International Airport (AZO) to provide brands with innovative advertising solutions. The new agreement began May 17, 2018 and media upgrades begin Q4, 2018
Clear Channel Airports
 has provided AZO with its comprehensive media network since 2008. Kalamazoo, located in Southwest Michigan, is home to 20 Fortune 1000 companies and is the world headquarters for the Kellogg Company, Stryker Corporation and Whirlpool Corporation. The region is also home to a vibrant beer scene with nearly twenty breweries in the area.
The new media network at AZO creates a captivating medium for advertisers to connect and engage with leisure travlers, business travelers and local residents. Some of the key details of the new program are as follows:
Upgrading two 86" LCDs on the baggage claim back wall with decorative shrouds to drive new advertising;

Filling exhibit space;

Targeting medical and pharmaceutical sector: Borgess Medical Center, MPI Research, Perrigo, Pfizer, Stryker; and

Focusing on thriving brewery market.
 Home to a diverse business community covering growing industries like healthcare, spirits and manufacturing, 
Kalamazoo presents advertisers with a unique opportunity to reach a wide range of business travelers and a thriving local population spanning all age groups
," said Morten Gotterup, President, Clear Channel Airports. "We are proud to extend our 10 year partnership with AZO and look forward to building an exciting advertising network for this increasingly vibrant region."
In addition, a recent 
Nielsen study
 shows airport advertising offers consumers a great opportunity to absorb and respond to brand messaging. According to the study, frequent flyers are highly responsive to airport advertising, with 80% noticing the media and 42% taking action that includes visiting a website, going to a store or learning more about a product/brand/service. Nineteen percent of frequent flyers bought a product they saw advertised at the airport. Additionally, airport campaigns are a significant driver of foot traffic, with 84% of frequent fliers likely to visit a restaurant, 50% likely to visit a clothing/accessories/jewelry store and 41% likely to visit a consumer electronics store.
Paid Advertisement