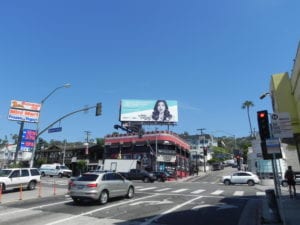 The OOH:Now 2018 sessions are on Vimeo.  Insider's favorite is brand keynote address by Caty Burgess, SVP Marketing and Media Strategies, CW.  Burgess gives a fast-paced, witty overview of how a television and programming network uses out of home.  Many of the examples in Burgess's talk feature ads on  Ace Outdoor Advertising's 8901 Sunset Blvd billboard (at right).  Andy Bilanzich, you've got a terrific asset.   Here are the highlights.
Is the future of out of home bright and why do media and entertainment companies invest in OOH?
The answer to both of those questions is ego.  That's not changing in Hollywood anytime soon.  It's not the cover of Rolling Stone.  It's a billboard that literally transmits the fact that a star has been born.  It's not your name in lights.  It's your face on vinyl…Out of home works to drive viewership of our shows which is our primary goal.  But it also helps to serve a larger purpose in New York, LA, Chicago in letting writers and actors and performers and creatives know that we believe in the shows.  That we're going to help make them stars.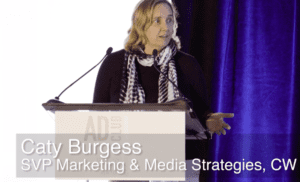 To Promote Gossip Girl
There was one single billboard that ran for it and it was in New York…But people talked about it so much that we could make it the cornerstone of our next campaign.
Melrose Place
We had a show about Melrose Place.  So we bought up all the billboards around Melrose Place.
Heart of Dixie
So for our show heart of Dixie which tells the story of a New York Doctor played by Rachel Bilson…practicing medicine in Alabama…we pursued a strategy we called southern fried media. What that was about was we bought placements in smaller towns throughout the South…We were communicating to viewers in these markets that this was a show for them…
On the benefits of digital out of home
I love digital out of home and I love it for a lot of reasons.  It gives us the opportunity to refresh out messages. To feature multiple creatives.  To cut out the latest #metoo perpetrator on the fly and to keep our world a little less like Slumdog Millionaire…
You can watch the entire 17 minute talk below.
---
Paid Advertisement

Hits: 0