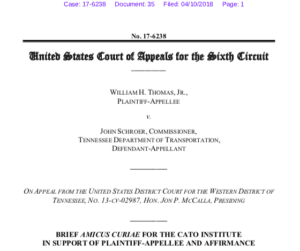 The Cato Institute and other conservative think tanks are supporting the legal attack on billboard law as unconstitutional infringement on free speech.
Cato, based in Washington, DC, filed an amicus brief on April 10 in a case called Thomas v. Schroer, which challenges Tennessee's billboard controls.
"Tennessee's statutory and regulatory framework for 'billboards' presents an irrational, unnecessary, and overly expansive restriction on the constitutionally guaranteed freedoms of speech and expression," said Cato's 21-page brief submitted to the US Sixth Circuit Court of Appeals.
Cato, founded in 1977, describes itself as a research foundation "dedicated to individual liberty, free markets, and limited government."
The State of Tennessee defends its billboard law as a proper balance of regulation and respect for free speech.  The US Department of Justice is supporting the state, along with the Outdoor Advertising Association of America (OAAA).
The plaintiff, William H. Thomas Jr, is represented by the Institute for Free Speech, based in Alexandria, VA.
In addition to the brief filed by the Cato Institute, these groups also submitted briefs arguing that Tennessee's billboard law is unconstitutional:
Goldwater Institute, Phoenix, AZ
The Buckeye Institute, Columbus, OH
The Beacon Center of Tennessee, Nashville, TN (with Center for Constitutional Law, Columbus, OH, and Mackinac Center Legal Foundation, Midland, MI)
Marion B. Brechner First Amendment Project at University of Florida, Gainesville, FL, and Pennsylvania Center for the First Amendment at Penn State, State College, PA
Insider's take:  Be careful what you wish for.  If Thomas prevails the existing system of regulation in Tennessee could be thrown out and the door opened for something which is much worse.  Insider doubts the US Supreme Court would uphold the attempt to moot Tennessee's State billboard law (there's a Supreme Court majority in favor or differing rules for on and off-premise signs), but there would be chaos in the meantime.
---
Paid Advertisement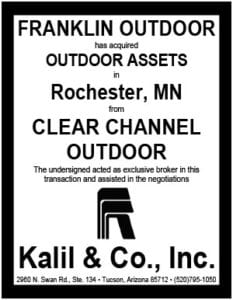 Hits: 1