Montgomery News reports that Thaddeus Bartkowski of  Catalyst Outdoor has presented a plan to the Upper Dublin, Pennsylvania school board to lease high school land adjacent to route 309 to construct a monument LED sign.  Catalyst is proposing to pay the school district $6.85 million or $228,000/year over the 30 year lease.
Some school board members are against the board and others are interested in considering the proposal to generate funds to support district operations.  The School Board will meet again to consider the board on March 17.
Insider's take: Catalyst has developed an interesting business model of providing communities a monument sign with an embedded LED.  You can see a picture of a Catalyst monument sign below and you can read a Daktronics interview where Bartkowski talks about his Monument Sign strategy here.   Insider wonders why more outdoor companies don't offer to constuct city monument signs which also can be used for advertising and public announcements.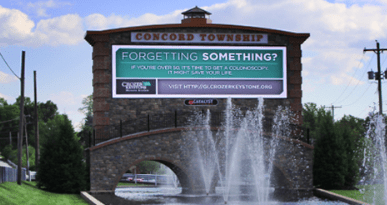 Hits: 2