You may have noticed the Kalil & Co. tombstone on Texas based Arrington Outdoor's acquisition of Faris Outdoor.  Insider reached out to both Mike Wolverton of Arrington Outdoor for his thoughts on the transaction.
Mike, did you purchase all of the Faris Outdoor structures?  Can you provide details on how many structures and faces were involved?
We purchased Faris Outdoor assets, in Texas and Arkansas, totaling 208 faces.  George Faris sold all of their company assets and is retiring after being in the business for over 30 years.
The Faris Outdoor inventory looks like it will fit very nicely within you footprint?
The inventory is a fantastic compliment and addition to our existing footprint.
What was the most challenging issue in getting this acquisition completed?
Just the typical due diligence and overview that goes with acquiring over ninety separate properties. It takes some time and expense to get it done as accurately as possible.
Is it time to take a breath, or is Arrington Outdoor still in growth mode?
I already took that breath and we are ready for more opportunities that might come our way.
We also reached out to Max Drachman, who worked on the deal for Kalil & Co.  Here is Max' comment on the transaction.
We could not be happier for George. He has worked very hard and developed an excellent plant. At the same time, this acquisition was a perfect fit for Arrington. It was simply a great deal for both sides.
---
Paid Advertisement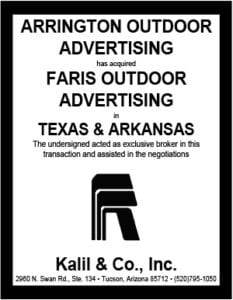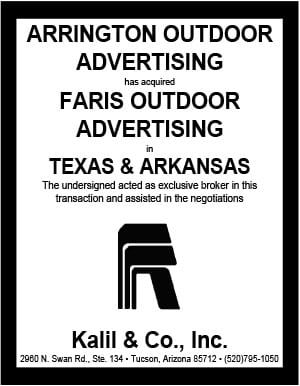 Hits: 0