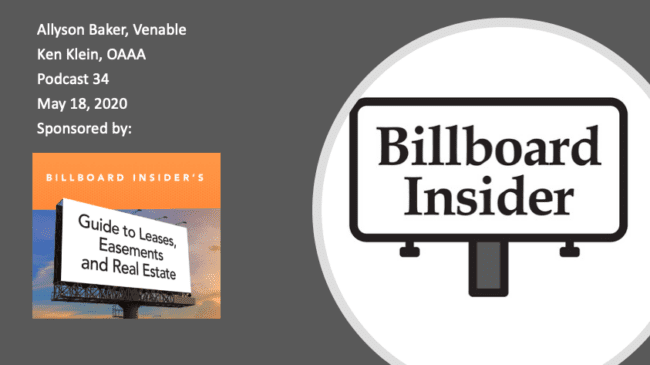 The government's fast-moving effort to deliver "Paycheck Protection" relief to small business has created confusion, even headaches. Billboard Insider invited Ken Klein of OAAA and Allyson Baker of the Venable law firm to answer questions and clear the air.
Podcast: Play in new window | Download (Duration: 25:54 — 35.7MB)
Subscribe: Apple Podcasts | Android | Google Podcasts | Stitcher | TuneIn | Spotify | RSS
Can I still apply? 
Yes, but do so quickly.  The first $349 billion was exhausted by April 16; about half of the second tranche has been committed. Contact your bank immediately; banks are processing Paycheck Protection loans for the Small Business Administration (SBA).
Will I be audited? 
Borrowers who receive more than $2 million from the Paycheck Protection Program will be audited, according the latest guidance from Treasury.
If I pay expenses with Paycheck Protection funds, are those expenses deductible? 
IRS says no. But Congress intended deductibility, and is likely to clarify that proper expenses paid with Paycheck Protection loans are deductible, Klein predicted ("Better than 50-50 chance").
What steps should I take to assure forgiveness to Paycheck Protection loans?
Keep careful records, to show that the funds were used for payroll and other allowed expenses (up to 25 percent for rent, mortgage, and utilities).
Don't co-mingle Paycheck Protection money with operating accounts.
Why have some recipients returned the money? 
Because they had access to other capital and-or to protect their reputations.
What about fraud? 
Yes, there have been fraud charges, in Rhode Island, Texas, and elsewhere. These allegations involved false documents and-or creating a company from whole cloth just for the purpose of applying for Paycheck Protection funds.
If you played by the rules, and believed in good faith that your business faced uncertainty due to the pandemic, then you should be fine.
Where can I get resources?
Go to:
---
Paid Advertisement