Channel 3000 reports that Adams Outdoor has sued Dane County over the improper termination of billboard leases at the Dane County airport.  Various predecessors to Adams have had a billboard lease at the Dane County airport since 1966.  Adams and the Dane County airport executed a lease in 2006 which expired in December 2015.  Adams and the Dane County Airport Director agreed to a lease covering the period from January 1, 2015 to December 31, 2020.  The Airport Commission approved the lease and then submitted the lease to the Dane County Board for approval as required by the airport bylaws.  On April 7, 2016 the board voted 18-16 to reject the lease.
Adams lawsuit asks the court to overturn the Dane County decision based on the following points:
the Dane County Board's April 7, 2016 rejection violated the Wisconsin Open Meeting Law.
Two Dane County Supervisors were personally biased against Adams and should have recused themselves from the vote.  One of the supervisors is the Executive Director of the Alzheimer and dementia allowand of Wisconsin which obtained several weeks of advertising from Adams in 2008 and 2010.  Adams has produced documents which show that the Supervisor was dissatisfied with the efficacy of the advertising.  A second County board member is a member of the Fitchburg Common Council and Fitchburg and is involved in a lawsuit between Fitchburg and Adams.
One Dane County Supervisor knowingly provided false information to fllow supervisors prior to the April 7th vote.  Here's what Adams alleges: "Supervisor Rusk also knowingly provided false information to his fellow Board supervisors prior to the April 7th vote. For instance, in December 2015, Mr. Rusk received an e-mail from a representative of the Carpenter Ridgeway Neighborhood Association—which is the neighborhood closest to where the billboards are actually located— telling him that "personally, I don't mind [the billboards]." And yet, later that same day, Mr. Rusk informed several of his fellow supervisors that "I have contacted the 3 neighborhood associations for input (Sherman, Eken Park, Carpenter Ridgeway) – so far nobody likes them . . . ."
Insider's take: Adams donated $313,340 in public advertising on the billboards to local nonprofits and paid $175,000 in rent to the Dane County airport over the past five years.  The airport wanted to renew the lease.   A County board member with a grudge decided that the Airport didn't need the money, that the area would look better without the boards and withheld information received from one neighborhood association saying that they didn't mind the billboards.  Here's hoping that Adams prevails.
---
Paid Ad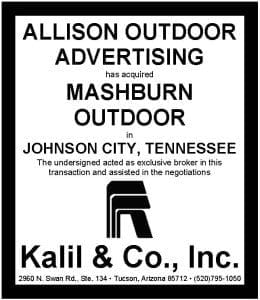 Hits: 0