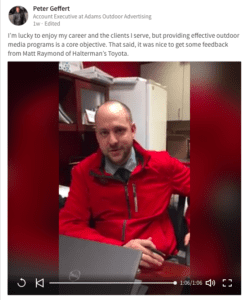 Adams Account Executive Peter Geffert put a great 1 minute video on linked in about a successful poster campaign for Haltermans Toyota.  Geffert asked Matt Raymond of Haltermans how the poster campaign is working out and here's what Raymond said:
"It's been a huge success for us…We had some static boards out there which did very well for us.  But you brought to us the idea about doing poster boards.  And by being able to change up our poster locations month after month it gets out message throughout the entire county of Monroe.
A lot of people have come in saying hey, I saw your poster here or I saw your poster there…Plus we get to change the message out every month.  In the auto industry things are changing really fast so it helps…
The one thing I've really appreciated about working with you and Adams Outdoor is that you always ask what we want and need…"
Insider's take:  Lots to like here.  Listening to the customer before proposing a solution.  Looking to extend an account relationship.   Monthly messaging via posters.  And smartphone generated marketing material.  Kudos to Peter Geffert and Adams.
Posters are a great tool for reaching young consumers.  Read the Nielsen poster report if you need convincing.
---
Paid Advertisement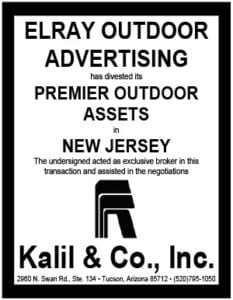 Hits: 0