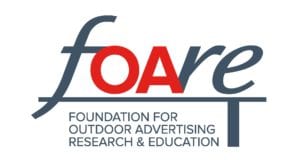 Ten students have been selected by the Foundation for Outdoor Advertising Research and Education (FOARE) to receive scholarships for the 2017-2018 academic year.  The FOARE Scholarship Program supports the education and career goals of those who are part of the OOH advertising industry family along with other students pursuing a related course of study.  136 students have received FOARE scholarships since the program was established in 2001.
The recipients for the 2017-2018 academic year are the following:
Braden Saunders, Clinton, UT
Braden was named the recipient of the $5,000 Allman Family Business Development, Marketing, and Sales Scholarship.  The Allman Family Scholarship, established by Don and Cathy Allman, recognizes the important link between sales, marketing, and business development.  Braden is seeking an MBA from Western Governors University in Salt Lake City, UT.  Braden has deep roots in the industry.  His grandfather founded Saunders Outdoor Advertising based in Ogden, UT, where Braden's father also now works.  Braden has worked at Yesco Outdoor Media as a Market Development Specialist and aspires to be in an upper management position within the industry.  "I am sure that my experiences as a market developer will provide huge dividends for me in my future positions," Saunders wrote.  Braden also recognizes that education is essential to succeed as a professional.  "The world of academics always seems to be marked with a number of facts – one of which is that education is essential to progression in both life and as a professional," he said.  "My interest in business and advertising in general have guided me in my decision to pursue a graduate degree."
Carly Suter, Portland, OR
Carly was named the recipient of the $4,500 Ruth Segal Scholarship.  The scholarship was established to recognize the work of Ruth Segal, a long-time employee of the Outdoor Advertising Association of America (OAAA), who worked tirelessly to educate federal and state policy makers about the industry.  Carly will be a freshman this year at the California Polytechnic State University in San Luis Obispo, CA.  Carly's mother has been a media buyer for out-of-home media for the last 27 years.  Carly is interested in pursuing a career in health care marketing and expects to use outdoor advertising to assist in communicating important health care messages in this work.  Carly learned from her mother's work how outdoor media can contribute to the health and well-being of a community.  "I love how this medium can speak with such a loud and impactful voice to a specific market and create change," she said.  "I saw the power of out of home through my mother's work and those she partnered with.  I want to make sure that whatever career path my college education sets me up for, I pursue it with the intent of making the communities I live in dream along with me."
Kathryn Zelechowski, Glen Carbon, IL
Kathryn was named the recipient of the $4,000 Vern and Elaine Clark Outdoor Advertising Industry "Champion" Scholarship.  The scholarship recognizes a student who demonstrates through their academic life, community activities, and career goals the skills that made Vern Clark, a long-time industry champion, successful in his efforts.  Kathryn will be entering her junior year at the University of Illinois in Urbana, IL, studying Agricultural Leadership Education.  Her mother works as an administrative assistant at DDI Media in St. Louis, MO.    Kathryn aspires to a career as a marketing or public relations specialist.  Citing increasing consumer concerns about the health of the food available to them, she hopes to use outdoor advertising as a way to educate the public about the agricultural industry, so that consumers better understand the science behind agriculture.  "Over time," she said, "my work will promote mutually beneficial trust between consumers and the industry."  In addition to her studies, Kathryn also has been active in her community raising funds to provide law enforcement with the necessary equipment to combat drunken driving and for the 4H.  She is also active in Agricultural Communicators of Tomorrow (ACT), where she is most proud of helping to organize Women Changing the Face of Agriculture Conference (WCFA).
Vaidehi Merchant, Westland, MI
Vaidehi has been designated to receive the $3,000 Creative Arts/Design Scholarship.  Vaidehi will be attending the University of Michigan School of Information in Ann Arbor, MI, studying for a Master's Degree in Human Computer Interaction.  She has been working as a graphic designer at OUTFRONT Media for the last six years.  Her work in the industry has prompted her interest in creating digital interactive outdoor.  "I would like to bring the knowledge of digital interaction to the outdoor industry and provide engaging outdoor designs that help with the new technology," she said.  "I'd like to participate in the near future, as an important contributor, to an always changing industry of outdoor digital media advertising."
Alexander Alwin, Phoenix, AZ
Alexander will receive a $3,000 scholarship.  Alexander is a senior at the University of Arizona in Tucson, AZ, studying Management Information Systems and Finance.  Alexander is the son of Tony Alwin, the current regional director for marketing for OUTFRONT Media.  Alexander's goal is to establish an eco-friendly outdoor media company that incorporates mobile cell phone media with outdoor advertising.  "My goal is to make typical digital advertisements into interactive and engaging experiences," he said.
Katherine Battaglia, Baltimore, MD
Katherine will receive a $3,000 scholarship.  Katherine is entering her freshman year at St. Joseph's University in Philadelphia, PA, and is studying Interdisciplinary Health.  Katherine is the daughter of David Battaglia, a senior account executive for Clear Channel Outdoor.  Eventually, she hopes to work as a pediatric nurse.  "Just like billboards help consumers see the bigger picture," she said, "I hope to help children and parents understand their health issues and cope with them from a compassionate standpoint that examines their socio-economic, home environment, and dietary habits."
Brenden Beshore, Yorktown, IN
Brenden has been named the recipient of a $3,000 scholarship.  Brenden will begin his freshman year at the Indiana University Kelley School of Business in Bloomington, IN, and will be studying Business Marketing.  Brenden is the son of Brett Beshore, who is the former president and general manager of Clear Channel Outdoor – Indianapolis.Brenden seeks to be an entrepreneur and already has started some businesses, including one that specializes in liquid wrapping.  He attributes this interest to what he has learned from his father.  "I've learned a lot from my father regarding the outdoor industry," he said.  "I find fascinating all of the elements of a successful advertising campaign.  I also have learned about real estate operations, creative, and the financial aspects of the business from him."
Aidan Dugan, Manlius, NY
Aidan will receive a $3,000 scholarship.  Aidan will be studying for an MBA at Tel Aviv University in Ramat Aviv, Israel.  He is the son of William Dugan, the vice president and general manager at the Syracuse office of Park Outdoor Advertising.  Aidan chose to study at Tel Aviv University to learn more about entrepreneurship and innovation in a startup nation and collaborate with peers from around the world.  "I hope to work in business development or to start my own company," he said.  "The program at Tel Aviv University covers typical areas such as finance, accounting, and marketing, but it also takes advantage of Tel Aviv's startup scene and offers courses related to innovation and entrepreneurship."
Colin Mahoney, Hanover, MA
Colin will receive a $3,000 scholarship.  Colin will be a freshman at Skidmore College in Saratoga Springs, NY, studying Business.  He is the son of John Mahoney, the business development manager for OUTFRONT Media – Boston.  Colin has accompanied his father on drives to examine local billboard advertisements.  He also has worked with an advertising company that helps public schools and colleges produce income through advertising on fences around their turf fields.  "In this business, I would connect struggling high school athletic programs with local businesses to provide a mutually beneficial relationship," he said.
Royston Richards, Greenwood Village, CO
Royston also has been designated to receive a $3,000 scholarship.  Royston will be a freshman at the University of Wisconsin – Madison in Madison, WI.   Royston's father is the current president and part owner of Mile High Outdoor in Denver, CO.  He plans to study Business with the hope of entering the sports and entertainment industries.  "I would ideally love to work for a major media distributor or talent company," he said, "where I can spend time working to provide people with music, movies, TV, and other media or working directly with various entertainers and athletes to ensure they fulfill a successful career in their respective fields."
---
Paid Advertisement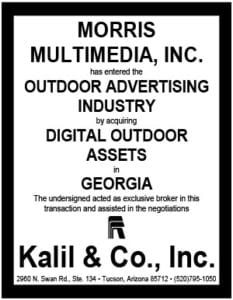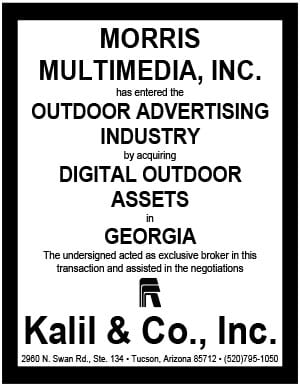 Hits: 1