To cap off a month of significant acquisition activity, the Reading Eagle reports that Reading, PA based Land Displays sold to Lamar Advertising.  Land Displays, from our last Company of the Day, owned 134 structures, including 15 digital faces, 3 trivision faces, 65 bulletin faces and 136 poster panel faces in Berks, Shuylkill and Montgomery County, Pennsylvania. Lamar purchased all their sign inventory in the transaction.
Jim Landrigan along with business partners Bill Rossi and Paul Kozloff, said in the article he is 65, his partners are both in their 70s and they decided it was time to sell the business. Land Displays was founded in 1995 when the three partners purchased their original nine structures from Randy Fishel who operated as Mid-State Outdoor.
Their office facility was not included in the transaction.
Insider's Take – Link Media and Lamar have been very aggressive on the acquisition front.  On the second quarter conference call Lamar said it had $100 million in acquisitions in letter or intent, under contract or closed year to date.  Lamar has unused revolver capacity and an equity shelf registration available to continue finding acquisitions.  Insider is aware of one other Lamar upper Mid-West transaction, closing in August, we were requested not to disclose. Expect to see more Lamar acquisitions in the last quarter of the year.
---
Paid Advertisement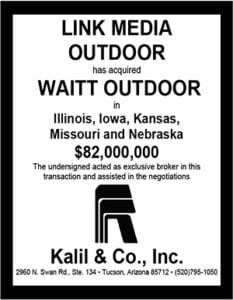 Hits: 2