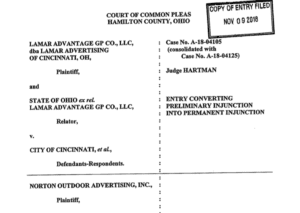 The court injunction blocking Cincinnati's billboard tax is now permanent.
On November 9, a judge in Cincinnati converted his preliminary injunction to a permanent injunction.
In his seven-page entry, the judge also criticized the legal theory used to uphold a billboard tax in Baltimore.  A circuit court in Maryland recently said billboards do not communicate speech protected by the First Amendment.
That premise "is clearly repudiated by well-established case law," said Hamilton County (OH) Court of Common Pleas Judge Curt C. Hartman.
Quoting the 1981 Supreme Court ruling in Metromedia v. City of San Diego, Judge Hartman said billboards are a means of expression entitled to First Amendment protection.
Judge Hartman issued a preliminary injunction on October 17, invalidating Cincinnati's targeted billboard tax as a burden on free speech.
Norton Outdoor Advertising and Lamar Advertising Company challenged the tax and higher billboard fees, which were imposed by the city council on June 27.  The city council voted to repeal the fee increase on October 10.
Judge Hartman's order to convert his tax- case ruling to a permanent injunction closes the case at the circuit court level in Cincinnati.  The city has signaled its intention to appeal.
---
Paid Advertisement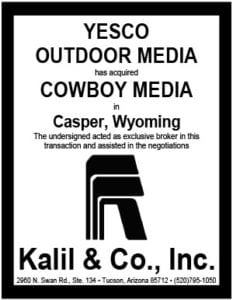 Hits: 2